A new greener train service which offers an alternative to cheap flights has launched today.
Lumo, a cost-effective all-electric train service, will offer two services a day between London and Edinburgh, via Newcastle.
The first service from London Kings Cross to Edinburgh Waverley left at 10.45am on Thursday morning.
Travel company FirstGroup is the operator behind Lumo and it says it wants to "reimagine what it means to travel by rail".
It hopes to attract one million passengers a year, filling two-thirds of the 1.5m available seats.
Lumo's blue colour scheme inside and out contrasts sharply with LNER's red, but the operators' trains are actually similar, both being manufactured by Hitachi in County Durham.
The newcomer will set itself apart with novelties like a reading light on seat backs above fold-down tables, while it will also offer free films and TV programmes streamed via the LumoGo app, which is similar to former operator Virgin Trains East Coast's BEAM service, which LNER scrapped when it took over in 2018.
From how to get cheap tickets to how long the journey takes, here's everything you need to know about the new Lumo train service.
What is Lumo?
Lumo is a new train service, backed by First Group, that aims to encourage greener and more affordable travel between London and Edinburgh.
Competing with companies such as LNER and East Coast, the company will offer passengers an onboard catering service and access to movies and box sets.
First Group says the trains will be six times as environmentally friendly as taking a plane instead.
It also expects to be even more carbon efficient than the average rail service as its trains are electric.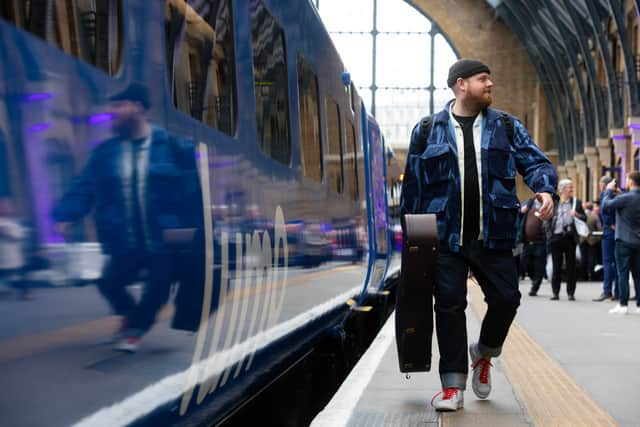 How long does the journey take?
The journey from London to Edinburgh will take about four and a half hours, running on the East Coast Main Line.
Beginning with two services per day, First Group hopes to increase to 10 services per day by early next year.
Trains will call at Newcastle, Morpeth and Stevenage.
How much will the trains cost?
First Group have said that 60% of all single fares will cost £30 or less, with fares between London and Edinburgh starting at £19.90.
However, Lumo will charge up to £69 for tickets bought on the day of travel.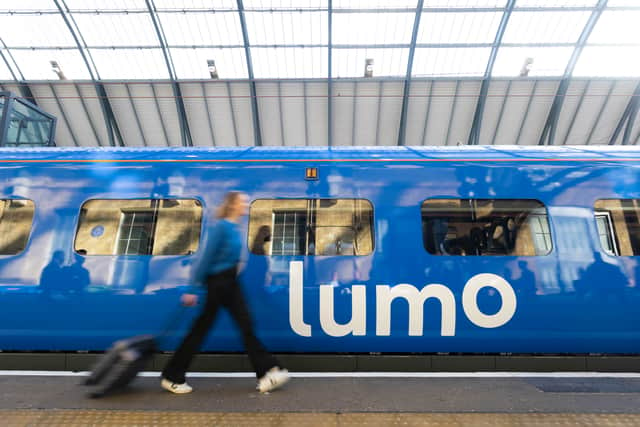 What's it like on board?
He said: "On first impressions, there was little to choose between Lumo's and LNER's seats, which were both firm, but not uncomfortable.
"Lumo's are slightly wider, but a little less deep.
"Legroom between knees and seat back was also similar, although there seemed to be less vertical room under Lumo's seat backs to stretch out as comfortably.
"Both operators have handy vertical window blinds, but there's only one charger socket per two seats on Lumo compared to two on LNER, which could be a problem if adjacent passengers want to recharge a device at the same time.
"The fold-down tables on seat backs are of similar size on both operators, each of which extends to accommodate laptops, but Lumo's also have a reading light with two brightness settings.
"There are fewer seats around tables in the Lumo carriages – two against eight in LNER's – and more of the Lumo seats in the middle of the carriages are not adjacent to a window so have no view.
"However, the grab handles on the edge of the seats to steady yourself as you walk down a moving carriage are far better placed on Lumo – on the top corner – than LNER's awkwardly positioned ones lower down the edges.
"Both operators offer free wifi."
What is the company saying?
Helen Wylde, managing director for Lumo, said: "Travelling in the UK should not cost a fortune and it certainly shouldn't be the planet that pays.
"Whatever your preferred mode of transport, we are likely to be more affordable and kinder to the planet.
"We believe everyone has the right to travel in style.
"We are empowering people to make green travel choices that are genuinely affordable without compromising on comfort.
"The reasons people choose different modes of travel are changing. People are now considering their impact on the environment very carefully.
"They also expect better service and catering.
"Lumo is a new rail travel experience that is kinder to the planet and better value for passengers, while never compromising on service."
Lumo also announced Katie Price's son, Harvey Price, will be its diversity and inclusion brand ambassador.