Matt Baker eulogised about family trips in the North East as he spoke on the This Morning sofa to promote an upcoming Our Farm in the Dales spin-off later this month.
The TV presenter, who was born in Easington of County Durham, will appear alongside his parents on a show called Travels with Mum and Dad when they visit Raby Castle for a family day out. On Wednesday, Baker chatted to This Morning hosts Phillip Schofield and Holly Willoughby about the success of Our Farm in the Dales, and how it led to fantastic trips in the North East.
He said: "What did come from it [Our Farm in the Dales] were these little trips we were taking out and as we've got back to normality, we've taken these little rural trips out in the North East with my mum and dad.
"We did Hexham races, we went to all the stables. My mum is fascinated with horses which is why she loved that so much. We did Durham Cathedral and got to meet all the brilliant craftspeople who make it what it is with brilliant heritage skills. We did Beamish Open Air Museum and Bamburgh Castle."
Raby Castle in Darlington will take centre stage on Travels with Mum and Dad, which airs on More4 at 9 pm on Thursday, December 15. Baker's parents are of course already stars of the screen in their own right, having appeared prominently on the farming series.
In 2020 his mother Janice was seriously injured on the farm in a freak accident which saw her trampled on by a flock of sheep. She suffered a broken leg, which led to Baker being roped in to help out on the farm and the hit series was born.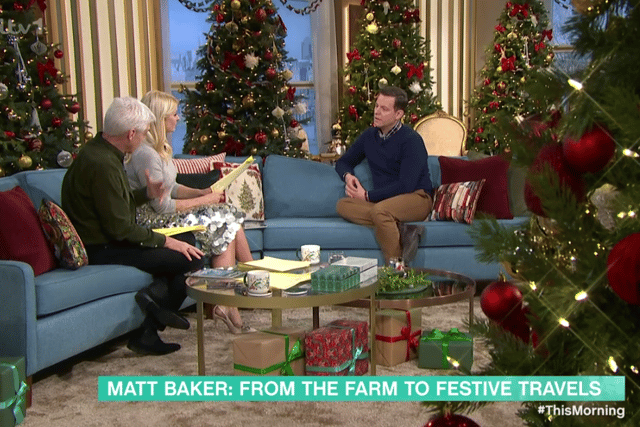 The ex-Blue Peter presenter and Strictly Come Dancing star has since moved back down south but will be spending Christmas in the North East with his parents. Speaking about festivities at home, Baker told The Daily Mail: "Mum puts up the decs at the earliest opportunity. Even outside. I can't take the hedge trimmer to a hedge without finding a string of lights!
"Although we do a late run on Christmas Eve where we fill up the feeders, we whip round Christmas morning, checking everything's OK, maybe sticking a sherry somewhere in the quad and saying Merry Christmas to all of the animals."