Meet police dog Raven who brought a thug's night of rampage to an end
Raven the Police Dog is a local hero.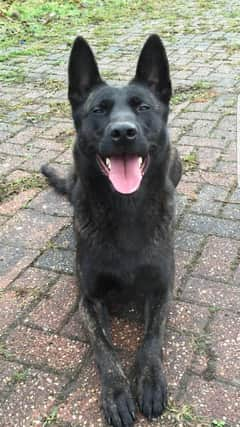 Not all heroes wear capes.
In this case, the humble star who stopped a rampant Gateshead thug wore nothing more than a collar.
Raven the Police Dog played a starring role in tracking down a criminal last year.
Ian Hood, of Northbourne Street in Gateshead, pleaded guilty earlier this week to a long list of offences including assault occasioning actual bodily harm, causing grievous bodily harm with intent and dangerous driving.
The crimes took place in a one-night rampage in June 2020.
Hood assaulted two people at a Gateshead address, leaving both requiring hospital treatment.
He then went on to speed through Gateshead twice over the legal limit, eventually driving into officers before crashing and continuing to flee.
That's when PD Raven, who is a five-year-old Dutch Herder, came in and helped bring the night of horrors to an end.
The furry friend picked up Hood's scent and led officers to find the man hiding in a bush.
It wasn't the first time the crime-stopping superstar has become a local hero either.
PD Raven has worked on a number of cases across the area in recent years.
18 months ago, in May 2020, Raven was deployed on the ground to help an air helicopter successfully chase a pair of Wylam burglary suspects
Then, in July 2020, Raven was praised for her "extraordinary teamwork" after tracking two car thieves.
A short time afterwards, in September 2020, Raven helped chase down a suspected axe-wielding burglar who had targeted a Lidl.
That's just three of many successes the adorable crime-stopping dog has been involved in.
Speaking last year, Sergeant Ian Hankin of the Northumbria Poice Dog Section, praised Raven's work.
After one of Raven's triumphs, he said: "This was a fantastic piece of teamwork between response officers and our fantastic Dog Section.
"It was a volatile situation that had the potential to escalate into serious disorder and violence but Lora [Northumbria Police PC] and Raven managed to bring it to a peaceful conclusion.
"Arrests like these show the value of our police dogs as nobody wants to mess with a massive Dutch Herder that is barking in your face.
"Those arrested probably did the right thing by giving themselves up as I don't think they wanted to take their chances in a foot race with a police dog.
"Lora would have made sure that Raven got a nice treat. They are a fantastic team who will no doubt have more great results in the future."