A new generation of WAGS: Meet the wives and girlfriends of Newcastle United
A new generation of WAGS are ready to take over, meet the women behind the men of Newcastle United.
Watch more of our videos on Shots!
and live on Freeview channel 276
Visit Shots! now
With the FIFA World Cup 2022 kicking off on Sunday, December 20 in Qatar, all eyes are on the England team. Three Newcastle United players, Kieran Trippier, Callum Wilson and Nick Pope are part of the England squad, and we are rooting for them to help England bring it home.
But for those of us who are more interested in the lives and fashion-sense of the wives and girlfriends of the footballers (thanks to Victoria Beckham and Cheryl Cole for paving the way), we have decided to shine a light on the women who support their men from the sidelines.
And while those three are in national focus, we take a look at the rest of the squad, with a number of other players' other halves prominent on social media.
Charlotte Trippier 🖤🤍 Kieran Trippier
Vice Captain for Newcastle United, Kieran Trippier has a wife who has already amassed over seven thousand followers on Instagram. Charlotte Trippier's Instagram account focuses on showing her family life, alongside fashion and travel. Charlotte became Mrs Trippier after marrying Kieran in 2016, and along with glamorous content she also displays life at the sidelines, supporting her husband in his career. The pair have three children together.
Stacey Wilson 🖤🤍 Callum Wilson
Callum Pope's wife Stacey, is an incredibly private person who has decided not to share her life or identity online - and we totally respect that! All we know about Stacey is that she and Callum were childhood sweethearts. There is an image online that many say is of Stacey with Callum but it is yet to be confirmed. Maybe we will catch a glimpse of Callum's other half at the World Cup?
Shannon Horlock 🖤🤍 Nick Pope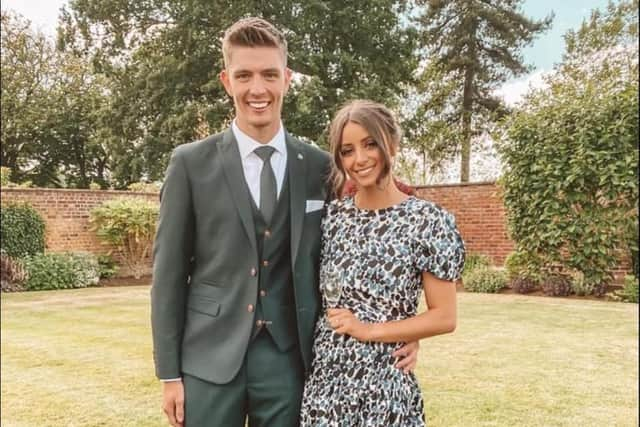 Shannon Horlock is the partner of Nick Pope, and the pair have been together for many years. Shannon seemingly does not have many social accounts, and like Stacey Wilson prefers to keep her life with her partner private. Shannon is no stranger to the life of football however, as she is the daughter of former Manchester City player, Kevin Horlock.
Ana Lidia Martins 🖤🤍 Bruno Guimaraes
Ana Lidia Martins is Bruno Guimaraes fiancee (the pair became engaged over the summer), who he has just recently welcomed son Matteo with. Ana works as a nutritionist, and shares enviable images of her glamorous life with Bruno on Instagram - even her pregnancy pics oozed glamour and sophistication!
Alexandra Munger 🖤🤍 Fabian Schar
Fabian Schar's girlfriend is from Switzerland, like him. The pair began dating in 2019, and Alexandra has supported Schar's career since then, posting adoring and encouraging messages on social media. She has recently graduated from the University of Zurich with a law degree, but also spent a lot of time in Jesmond and Tynemouth alongside her boyfriend.
Thays Gondim 🖤🤍 Joelinton
Joelinton's fiancee Thays Gondim is another to watch, with over 15 thousand Instagram followers. The pair became engaged in the summer of this year, and share two children together. Thays shares an insight into family life and her own extravagant lifestyle with her followers.
Daisy Shelvey 🖤🤍 Jonjo Shelvey
You may actually recognise Jonjo Shelvey's wife Daisy, as she used to be a singer as a child. Known as Daisy Evans before marrying the Newcastle United footballer, she was part of the pop group S Club Juniors (also known as S Club 8) alongside Rochelle Humes and Frankie Bridge. Daisy and Jonjo married in 2015 after a two-year engagement, and Daisy is now a make-up artist. Daisy's main instagram is a private account, however you can follow her make-up account, where she posts make-up looks, photos from events and the odd update on S Club Juniors to her almost 11 thousand followers.
Lina Krafth 🖤🤍 Emil Krafth
Emil Krafth's wife Lina has an incredibly wholesome Instagram account that shows how down-to-earth the couple are. On her page, she shares life as a mother of two children and a dog, as well as snaps of her husband with adoring captions.
Alexia Notto 🖤🤍 Miguel Almiron
Miguel Almiron's fiancee Alexia is dominating the wag scene with 285 thousand followers on Instagram. The pair have a child together, and Alexia shares cute snaps of him on her page. She also focuses on fashion, sharing her outfit choices for watching the match. Alexia also has a TikTok account, where she posts funny videos with her footballer husband-to-be.
Diletta Leotta 🖤🤍 Loris Karius
Although it hasn't been fully confirmed, there is huge speculation that Italian television presenter Diletta Leotta, is Loris Karius' latest girlfriend. Diletta has a huge Instagram following - but that will be due to her own career. According to her Instagram account, Diletta is a sports presenter, which is most likely how she crossed paths with Karius.
Kirsty Linett 🖤🤍 Chris Wood
In among the WAGS of Newcastle United is someone who could give her a partner a run for his money - Kirsty Linett. Chris Wood's partner is also a professional footballer! The couple live together with their dog, Luna and share their love of the game.
Harpinder Rai 🖤🤍 Jamaal Lascelles
Harpinder Rai is the partner of Jamaal Lascelles. The couple have two children together, and Harpinder shares family life alongside lifestyle and fashion content with her followers.
Jasmine Buckle 🖤🤍 Matt Targett
Jasmine Buckle is the fiancee of Matt Targett. The pair got engaged in June after Targett proposed with a lavish display of balloons, rose petals and huge light-up letters that read "Marry Me?" Jasmine is private on social media, but Targett occasionally shares loved-up snaps of the pair.
Sally Rea 🖤🤍 Mark Gillespie
Goalkeeper Mark Gillespie's partner is Sally Rea, an interior designer. The couple have one young daughter together. The couple have been together for a while, with Sally first appearing on Gillespie's Instagram in 2015. Sally's personal account is private, however you can devour some amazing home content on her interior business page - Rea Interiors.
Grace Beaumont 🖤🤍 Jacob Murphy
Jacob Murphy's partner is Grace Beaumont, another WAG with a private instagram account. The happy couple welcomed their first child in 2021, with Murphy sharing snaps of the family from time to time. Murphy also has an Instagram highlight dedicated to his girlfriend, with the do