There's an added excitement across North Tyneside today as the Mouth of the Tyne festival begins.
The three-day affair will run from Friday, July 8 to Sunday, July 10 and see huge British artists Keane, Sophie Ellis-Bextor, Newton Faulkner and more take to the stage at the iconic Tynemouth Priory and Castle.
As well as the ticketed gigs, Tynemouth streets will be filled with entertainment, food stalls and free performances.
Local artists, choirs and bands will perform across the weekend, including at the jazz stage outside The Gibraltar Rock pub, at Tynemouth Station and on the community stage.
North Tyneside Council's Festival Director has spoken of his excitement to bring more than 100,000 people to the festival over the weekend.
Steve Bishop said: "I'm absolutely delighted that after two years, the Mouth of Tyne Festival is finally returning to Tynemouth. A lot of work has gone into selecting a brilliant line-up and bringing lots of free entertainment to the festival which people of all ages can enjoy across the weekend.
"The festival attracts more than 100,000 visitors each year and is a major event in the borough and we look forward to once again seeing the village bursting with fun and entertainment this weekend."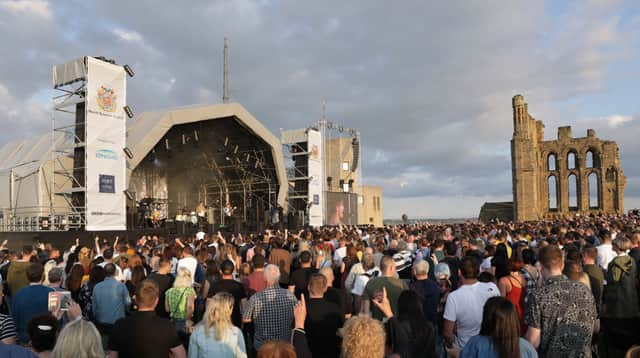 North Tyneside Council has provided the following information to help attendees have a seamless weekend.
Where can I park?
Parking will be extremely limited. We recommend that you use public transport when possible (www.nexus.org.uk). There are limited blue badge parking spaces nearby. If travelling by car, please note front street will be closed.
Is there a Park and Ride option?
A Park and Ride will run every 20 minutes from Beaconsfield on the seafront at Tynemouth adjacent to Tynemouth Aquarium to Boots on Percy Park Road in Tynemouth Village. There is a £3 charge per car.
On Saturday, the service will be between Beaconsfield to Tynemouth Village between 10 am and 6:20 pm and from Tynemouth Village back to Beaconsfield between 10:15 am and 6:35 pm.
On Sunday, it will run between Beaconsfield and Tynemouth Village between 10 am and 7:20 pm and from Tynemouth Village to Beaconsfield between 10:15 am and 7:35 pm.
Park and Ride is not available on Friday.
Where can I buy tickets?
Tickets for Sophie Ellis-Bextor are available from See Tickets and Ticketmaster. Keane is now sold out. Re-sale tickets may be available from See Tickets Fan to Fan Marketplace and Twickets.
What if my tickets don't turn up?
The council are unable to deal with ticket issues unless notified of changes by the ticket provider. If you have lost tickets or your tickets do not arrive in time, you must contact the ticket company ahead of the event.
What time are the concerts?
On Friday gates open at 6 pm. Support acts start at around 7 pm. Concerts finish by 10 pm. On Sunday afternoon, gates open at 11:45 am and the concert finishes by 7 pm.
There is no re-admittance once you have entered the priory.
Can I bring my own food and drink?
Food and drink are available on-site, but people can also bring their own. Alcohol is allowed in moderated quantities. Glass and BBQs are NOT permitted. Bag searches will be conducted.
Is there any seating inside the priory?
No, they are standing concerts. There is an accessible viewing for those with disabilities and additional needs, with spaces are on a first-come first-served basis. People can bring camping chairs but should be mindful that views may be restricted. Tents are not permitted.
Is the site accessible?
Yes, it is. There is a path all the way into the priory which leads to a raised viewing area, if required, there are accessible toilets on site.
Are dogs allowed?
No dogs are allowed on site, except guide dogs.
Can I take photos?
Yes, capturing photos for personal use is fine. Photography or filming for commercial use is not allowed without prior authorisation.