A few weeks ago I watched the brilliant Si King from The Hairy Bikers endeavour to convince the nation to have a go at a homemade version of the classic Greggs steak bake. It looked alright, although I wasn't going to take the time out of my day to follow the recipe, and when I looked online many seem to hold the same opinion.
Some NewcastleWorld readers posted comments sharing a love for the Iceland exclusive frozen products provided by Greggs, recommending people take a trip to their local freezer-food haven rather than sweating it out in the kitchen.
As someone who likes a Greggs sausage roll and steak bake as much as the next person, the range sounded tempting. However, surely it couldn't compete with the warm, crispy goodness that you can buy straight from the counter at Greggs?
I set off on an expedition to the Gateshead town centre on a windy November morning. My first stop was in Iceland, where the Greggs range was easy to locate thanks to the obvious branding. I paid £3 for one box of four sausage rolls and £3 for a pack of two steak bakes. At effectively £1.50 per steak bake, there wasn't really a saving to be made by investing in the frozen products.
I pressed on and went straight from the checkout to the Greggs store at Gateshead Interchange to pick up a sausage roll and steak bake for my taste test before rushing home to stick the frozen goods in the oven.
About a half hour later they were ready to come out and having placed them side-by-side, both products looked much more similar than I imagined. The pastries straight from the Greggs counter were slightly more golden, but that was the only real difference to the eye. At the end of the day, us Greggs fanatics aren't here to be faffing about the pastry's appearance - it's not for our Instagram page, it's for our bellies. So what really mattered was the taste.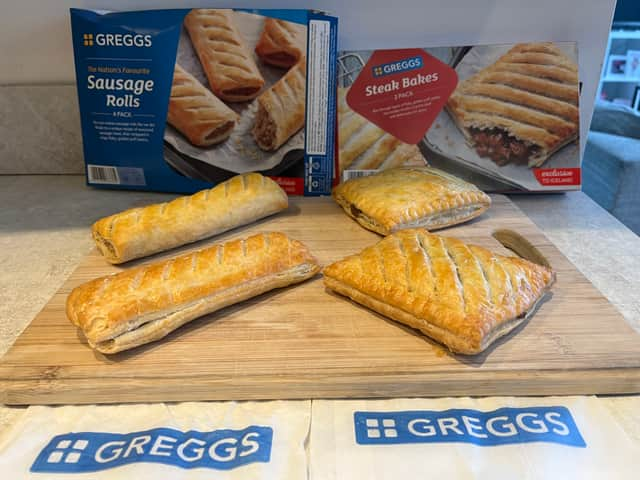 This is where the wheels came off for our friends from Iceland. A large air pocket at the top of the steak bake was disappointing and the filling was a little runny. Even a Greggs novice could tell the difference. It was a similar story for the sausage roll too. Analysing the inside of the roll carefully, the difference was clear. The frozen sausage roll looked heavily manufactured in comparison to the one from the counter, which looked constructed by the Gods.
The frozen range at Iceland is fun to have but, for any true Greggs fan, you simply can't beat the real thing.