Baby Loss Awareness Week took place this month, between the 9th and 15th of October. The week is an opportunity to spread awareness of baby loss and to remember the babies that families have sadly lost. The loss of a child unfortunately can impact many families across the UK. There are baby loss charities operating across the UK, researching the cause and offering support to families.
We spoke to bereaved parents from Newcastle, who wanted to share their experience of baby loss to continue spreading awareness.
Danielle Miller, 25, went into preterm labour five years ago with her first child Leyton unexpectedly at 25 weeks pregnant. "No words can describe what you feel at that very time," she said. Danielle and her partner were told that there would be a possibility that Leyton may not survive. Once born, Leyton was taken to the NICU unit, he lived for two weeks and fought many issues but sadly lost his fight.
"My experience at the hospital was the best it could be. The care towards me and my son was amazing, and I appreciate them very much for everything they did to help us both during that time," she said. Danielle explained that to lose a child at any age is horrific, but that as she was so young and a first time mother she felt that she really struggled. "I can remember a feeling of overwhelming anxiety and worry during our time in hospital," she said.
We asked Danielle if she had any support from UK baby loss charities during or after her experience. She said she remembers being told about the charity SANDS, who focus on stillbirths and neonatal deaths. However, Danielle felt that the timing of being told about the charities could be improved, as she felt it was too soon after losing her child.
"It's so raw losing a child that at the time, you won't take any information given to you. Once you leave that hospital though, you really do feel so alone. The months and weeks after that are the hardest and unless you go looking for it, the support isn't really there." Danielle explained, adding that she thinks hospitals should ask if you would like your details to be passed on to charities, for support at a later date when you feel more capable of speaking. "The more the years go on the harder it is, support would be beneficial," she added.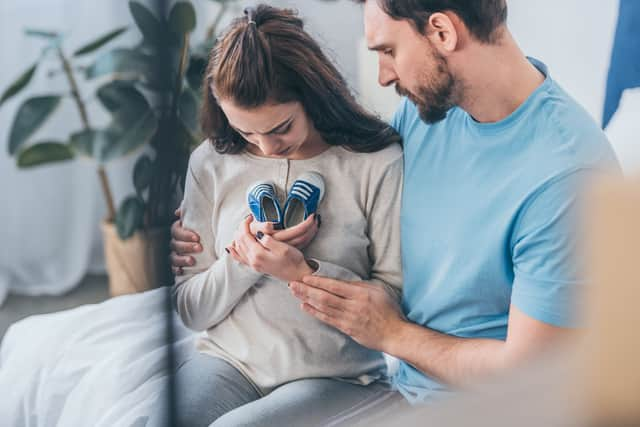 Another bereaved parent, who asked to be kept anonymous, suffered four miscarriages and an ectopic pregnancy. Speaking of her experience of the ectopic pregnancy she said: "After experiencing excruciating pain, I went to A & E, where I was told I was pregnant," Although hospital staff informed her that she may lose the baby, she was excited at the prospect of being pregnant as she and her partner had been trying to conceive for years.
The woman was then sent home, and told to come back if the pain got worse, to which she felt uncomfortable as she felt she needed hospital support given the pain she was in. She had considered she may be having an ectopic pregancy after researching baby loss after the four miscarriages, however she was told by hospital staff: "Your pain would be much worse if this was an ectopic pregnancy."
The woman's pain did in fact get worse, and it turned out she had internal bleeding, therefore on returning to the hospital she was taken for emergency surgery. In the surgery, one of the woman's fallopian tubes had to be removed. She said: "I was devastated, I thought that because I only had one tube, I would never be able to fulfil my dream of becoming a mother and starting a family with my partner."
She described the support from the hospital to be bad at first, but once they had realised she was suffering from an ectopic pregnancy, she was seen very quickly and given more support. She explained she was given a consultant, who continued to support her afterwards while she and her partner continued to try for children. "The losses of the babies felt incredibly numb, almost as if it didn't even happen to me. However, it also caused my partner and I to become incredibly obsessed with trying to get pregnant, adamant that we would eventually have the family we always wanted."
The woman explained that she was given leaflets on how to deal with bereavement, but nothing specific on baby loss. She said: "I didn't even look at the leaflets because it was too soon, too painful and generally too much to cope with at the time. If someone had gotten in touch with me after I'd had time to grieve and process the situation, I would have certainly taken up the support of charities."
The woman experienced an ectopic pregnancy in 2013, and hopes that support has improved since then. She explained that Geordie Shore star Charlotte Crosby speaking out on her experience with ectopic pregnancy has helped to make people more aware of baby loss and ectopic pregnancy as a whole.
A rainbow baby is a term used for a child who is born after the mother has suffered baby loss. Thankfully, both bereaved parents who shared their story with us went on to have successful pregnancies and have two children each.