A Newcastle drag queen got viewers talking as she made her debut on RuPaul's Drag Race UK last night.
Choriza May is waving the flag for the city on the hit BBC show, which premiered its third season on the BBC last night.
12 new drag queens from across the country hit the spotlight and will be put through their paces until a winner is crowned later this year.
On Thursday night's first episode the drag queens were challenged to showcase their home cities with a runway look.
Choriza, who is originally from Valencia, now calls Newcastle home after moving to the city five years ago to be close to her boyfriend.
For the home city-inspired look, Choriza went for the obvious and decided to represent Newcastle United.
She donned a black and white gown and spoke about the Magpies as she wielded a football purse.
Viewers loved the outfit and shared their glee on social media, writing "Ok Choriza May's Newcastle look was EVERYTHING" and "Choriza May's Newcastle look was so perfect".
Chroiza wrote on Instagram this morning: "What a night!!!!!! Can't believe I just walked into the mainstage of @dragraceukbbc.
"For my hometown look I had to represent Newcastle. The city that gave birth to Choriza, the scene that has supported me over the years and helped me be where I am today.
"This is my take on the @nufc kit with a royal twist! Newcastle United players are called 'magpies' because of the black and white stripes.
"Magpies also like shinny things that's why I have a fully jewelled hand and a fully stoned football ball. But I came to the competition to get the shiniest thing of the all... THE CROWN!"
It wasn't just the star's clothes that had people talking online.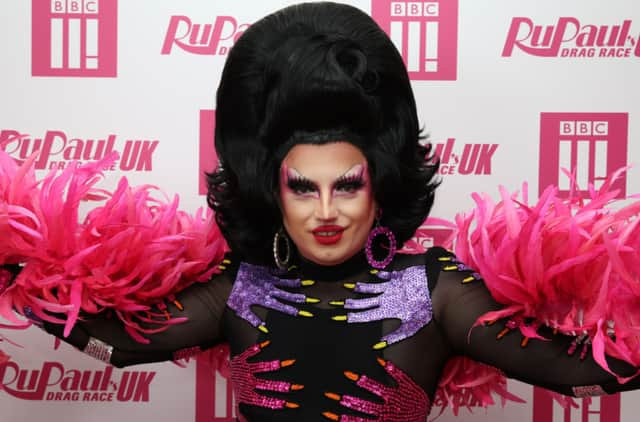 Her tongue-in-cheek comments and confessional videos rocketed the star onto Twitter's trending topics.
She wrote: "Erm, apparently I wast trending on Twitter #7! Are you mad? this is so INSANE!"
It all kicked off when Chrozia made her entrance to the show and delivered a memorable opening line.
She said: "Don't hate me because I'm beautiful, hate me because I'm an immigrant."
The line sent social media into meltdown, with some labelling it the show's best-ever entrance line.
One user wrote: "'Don't hate me cause I'm beautiful, hate me because I'm an immigrant' is one of the funniest intros I've ever heard on this show, Choriza May Hall of Fame now #DragRaceUK."
Another shared: "Choriza May makes me proud to be a Northerner."
Others wrote "That's it. Choriza May is the winner already. I'm sold" and "Choriza May is an icon and the true winner of this season no matter what".
RuPaul's Drag Race UK airs on Thursday nights at 7 pm on BBC Three.