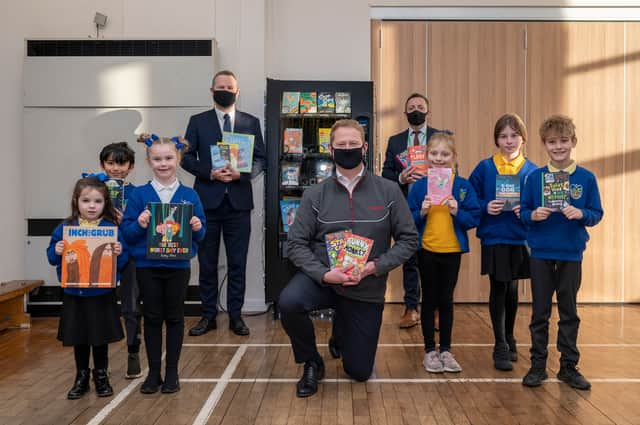 Cheviot Primary School with their new machine
Children love vending machines... they always have done and they always will.
There's something magical for youngsters about a machine that, at the press of a button, will dispense their favourite chocolate bar, a bottle of pop or, of course, a book.
That's right, a book vending machine is the latest contraption to be rolled out in schools.
Cheviot Primary School near Westerhope is one such school that have welcomed the book vending machine, which is designed to encourage a pick-up in reading habits.
The machine's arrival comes off the back of a recent survey that found a significant number of pupils struggled to get access to books during lockdowns.
The book vending machine was funded by donations from local car dealerships Lookers Nissan Newcastle, Nissan Gateshead and Renault Newcastle.
Pupils receive tokens to use the machine
A contribution to the vending machine was also made by local estate agent Your Move Chris Stonock.
With the donations provided, the school has been able to fill it with a range of age-related books for children from Nursery up to Year 6.
Children receive a gold token as a reward and can then use this token to retrieve a book from the machine.
Lee Gallon, Executive Head Teacher at Cheviot Primary School said: "At Cheviot Primary School, part of the Smart Multi Academy Trust, we firmly believe that reading is empowerment through understanding.
"Reading introduces children to vocabulary they may never have heard before, it enables them to be transported to another world through their imagination, it teaches them about emotions, and it enables them to acquire skills and knowledge about a limitless range of topics.
"However, in a recent survey, we noticed that over 50% of our pupils did not own reading books at home.
"We really want this to change so we are setting out to change the mindset of the pupils and their families in our school community.
"We are trying to promote a love of reading. The book vending machine has caused an enormous amount of excitement within school.
"We are so grateful to Lookers and Your Move Chris Stonock for their generous donations to enable our vision of "reading for pleasure" to reach beyond school and into our wider community."