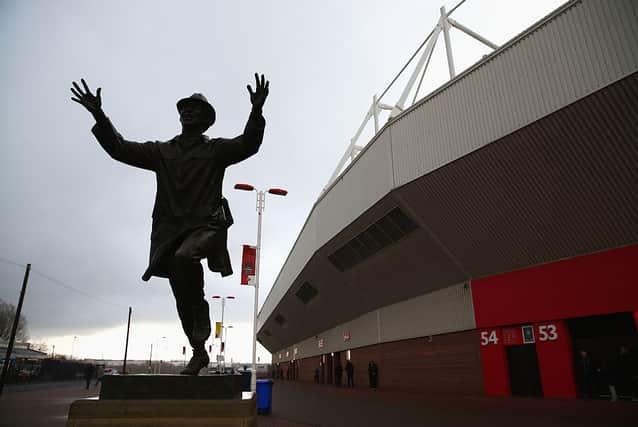 A video appearing to show a Newcastle United 'fan' urinating on the statue of Sunderland FA Cup-winning manager - and former Magpies' cup-triumph hero - Bob Stokoe at the Stadium of Light was circulated on social media at the weekend.
And today, Northumbria Police have confirmed that a 21-year-old has been arrested and detained in relation to the incident.
The video, posted to Tik Tok then shared on a variety of other social media platforms including Facebook and Twitter, appeared to show a male in a Newcastle United shirt referred to as "Thomas" pull down his shorts and urinate on the statue outside the Black Cats' stadium.
The person filming the clip can be heard saying: "This is Thomas, and he's gonna urinate... This is Bob Stokoe. Show him what you're made of, lad."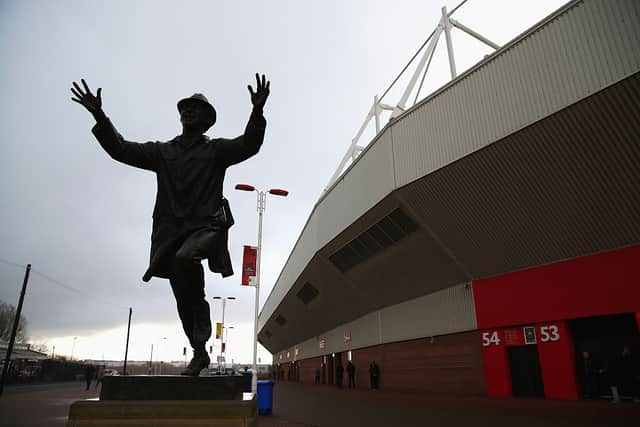 As wind crackles through the video, the words of the brainless pair then become more garbled and inaudible but they then appear to reference the incident happening "half an hour after the game".
Alex Neil's side's final game of the regular League One season - a 1-0 win over Morecambe - took place on Saturday. It did however, take place away from the Stadium of Light and at Morecambe's Mazuma Stadium, where the incident occured.
The unidentified duo then break into a chant of a Newcastle United terrace song, starting with the words: "What do you think of Sunderland?".
And this morning, it seems as though the law has at least caught up with one of the pair, as Northumbria Police released the following statement: "We're aware of a video circulating which appears to show a man urinating on a memorial outside the Stadium of Light @SunderlandAFC. This type of behaviour is totally unacceptable. A man, 21, has been arrested in connection with the incident & remains in custody.
We recognise incidents of this nature can cause anger and frustration. We'd ask everyone to please respect the ongoing investigation & refrain from anything that could jeopardise our enquiries. We'll continue to work with @SunderlandAFC to bring justice against anybody involved."
Prudhoe-born Stokoe is not only a Sunderland legend for leading the then second tier Black Cats to an unlikely FA Cup victory over Leeds United in 1973, but also made more than 250 appearances for the Magpies in his career.
His most famous moment as a player was playing in the last Newcastle side to win a domestic trophy, also the FA Cup, in 1955.