The wife of Newcastle United's Kieran Trippier, Charlotte returned to St James' Park alongside her husband, supporting him from the hospitality boxes as he played against Bournemouth.
In the clips posted on her Instagram stories, Charlotte wore a pink paper Christmas hat from a Christmas cracker, showing her followers that she is still very much in the Christmas spirit.
The next clips showed the children she shares with the Newcastle United player, adorably waving black and white flags during the game.
Many of Charlotte's followers took an interest in the jacket, prompting the WAG to post a main feed post, to give more details. She uploaded an image of herself from the match, wearing the simple yet fashionable look.
She captioned the Instagram post: "For those asking, the jacket is from VARLEY and it's super soft, comfy and SO warm" alongside a love heart hands emoji and a black heart emoji.
The jacket, which is named Appleton Half Zip Pullover on the VARLEY website, comes in both black and a cream colour named Eggnog. It costs £142 and is currently completely out of stock in the black - which Charlotte wears.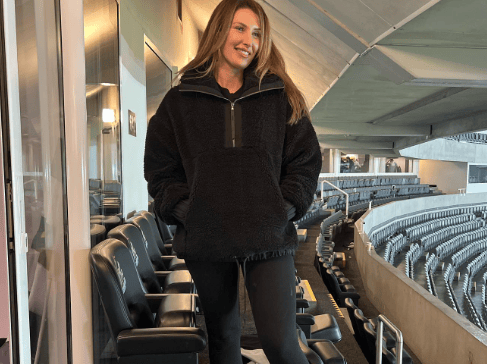 Kieran Trippier also posted to Instagram to share images from the match. He captioned the post: "Back like we never left. Next round soon."
The Magpies beat Bournemouth 1-0 to book their place in the last eight of the Carabao Cup. Eddie Howe's side return to Premier League action on Boxing Day at Leicester City.