A new monument designed and created by sculptor Ray Lonsdale, is planned to commemorate herring girls and the role they played in the Fish Quay Industry.
The welded Corten steel sculpture, which has been named The Herring Girl has been designed to depict a life-sized traditional herring girl, sitting on a barrel holding up a herring in each hand.
The history of herring girls who frequented the Fish Quay dates back centuries, as women followed the route of the fish, gutting and salting the herrings that were caught. The women would follow the fish from early summer, eventually arriving in North Shields in August - and the sculpture has been created to honour the women.
The creation has been championed by The North Shields Fishermen's Heritage Project, and has raised over £19,000 in donations from North Shields businesses and residents.
Terry McDermott, Chairman of the North Shields Fishermen's Heritage Project, said: "This new sculpture will complement the Fisherman sculpture already situated on the Fish Quay, and helps complete the story of our historical quay by remembering the important role women played in the fishing industry."
He continued: "We're extremely grateful to everyone who has donated to help make this sculpture a reality, and to the Council for matching funding to ensure this historical art piece is given a home in North Shields."
Terry also explained the role the women played "wasn't easy work", and said: "This sculpture gives the women who have worked, and still work today, in the fishing industry the recognition they deserve."
North Tyneside Mayor, Dame Norma Redfearn DBE, said: "It's great to see another of Ray Lonsdale's artworks commissioned for the Fish Quay. This beautiful new sculpture will provide a lasting reminder in the community about the role women played in our local fishing industry.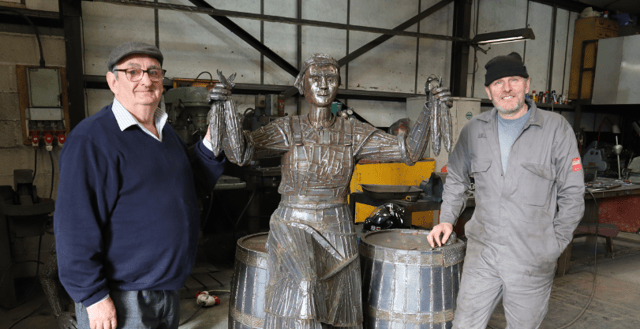 "I would like to thank the North Shields Fishermen's Heritage Project and all those who donated to the project to help make this wonderful sculpture a reality. Every single one of you helped make this happen, and I'm sure those who live, work and visit North Shields will treasure her for decades to come."