Northern Bottlenose Whales in Northumberland: How to protect them
Whales are suffering from the impact of climate change
Watch more of our videos on Shots!
and live on Freeview channel 276
Visit Shots! now
Ocean's Plastic Free, a supplier of high-quality toilet and kitchen rolls that are committed to protecting the environment, have released a list of places whales have been spotted in the UK.
One of the locations on the list was the coast of Northumberland, where a Northern Bottlenose Whale was spotted. They weigh a whopping 7,500 kg and closely resemble dolphins due to their round heads and shorter beaks. They tend to have brown bodies, and a tall fin that can be spotted above the surface of the sea. They are known to be curious creatures, who like the presence of sight-seers on boats. Their diet consists of deep-water squid.
To spot a whale is a beautiful sight, and a rare special moment, but it also serves as a reminder of the dangers whales face in the sea, and the fact that they still need protection from those dangers.
Whales are currently facing the negative effects and impact of climate change, particularly the increase in plastic pollution.
Unesco, the specialised agency who aims at supporting world peace, released figures stating that plastic pollution makes up 80% of all marine pollution. Over eight million metric tons of plastic ends up in our ocean each year.
This is incredibly harmful to marine life, and can cause whales to die from getting entangled. Around 300,000 whales have already suffered this fate.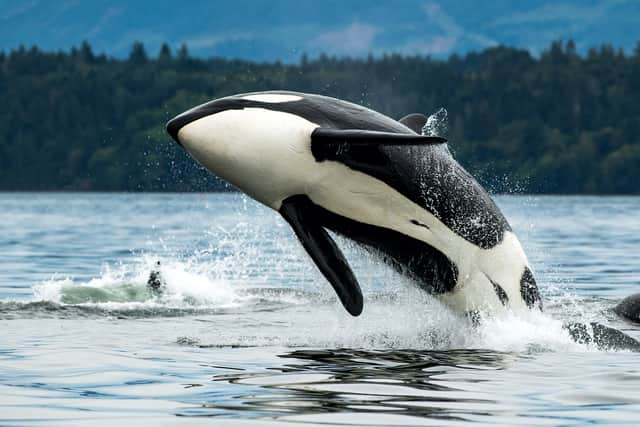 The rise in whale sightings in the UK is also due to sea temperatures rising due to climate change, and whales are having to move further inland to find better conditions. The increase in temperature is also affecting their ability to reproduce.
Seeing a whale on UK shores is a wonderful experience, but Ocean's Plastic Free are encouraging the public to treat these sightings as a reminder to keep oceans clean to prevent further threats to whales.