Northumberland restaurant Pine, located in the area of East Wallhouses, have announced the launch of an intimate Chef's Table dining experience and guest bar.
The Chef's Table will seat up to the three guests, who will be able to have a close view of the Pine team as they prepare and serve their dishes to them in an intimate setting.
The menu available at the Chef's Table will include dishes that use the best locally sourced and foraged ingredients, which are also used within the main menu dishes.
Delicious and unique dishes available include Sugar Kelp Dumpling, North Sea Trout & Spruce, Mushrooms From Under The Tyne Bridge, Fallow Deer, Celeriac and Hepple Gin Quince, Salted Parsnip, Cheese & Honey From Our Bees, Chicory Root Tart with Japanese Knotweed & Charred Meringue and 3 Month Black Apple Candy.
The table itself has been created using reclaimed windfall English Walnut, which was sourced from a woodland close to the restaurant. The table features intricate details and was created by local artisan crafts people, using responsibly sourced timber and material to reflect the values of Pine's sustainable ethos.
Pine also has a brand-new bar area which is available exclusively to diners. The bespoke bar area also uses locally sourced and foraged ingredients to create exciting cocktail and mocktail combinations, created by head barman Bobby Morrison. Cocktails available include Elderberry 75, Polly Collins, Evergreen Sour and The Staircase.
The bar has a cosy atmosphere, with a wood burning stove in the centre of the area. Scandi style sofas and armchairs surround the stove, and specially commissioned photographs adorn the walls, making the area a luxurious yet comfortable space.
Chef patron Cal Byerley and co-owner and front of house manager Sian Buchan said: "Our Chef's Table has been designed to be informal, we wanted it to feel like you were sitting down in a friends kitchen, where you could chat with the team, have the opportunity to find out a bit more about what we do and why we do it, and have the chance to enjoy a glass of wine or two during your meal.
"Our bar space has a similar informal vibe, a cosy home from home kind of space. It's essentially a space where you can sit and unwind either before or after dinner. A space that gives you the time to savour the entire experience of dining with us from start to finish, but one with the added benefit of having a Michelin-starred restaurant team looking after you."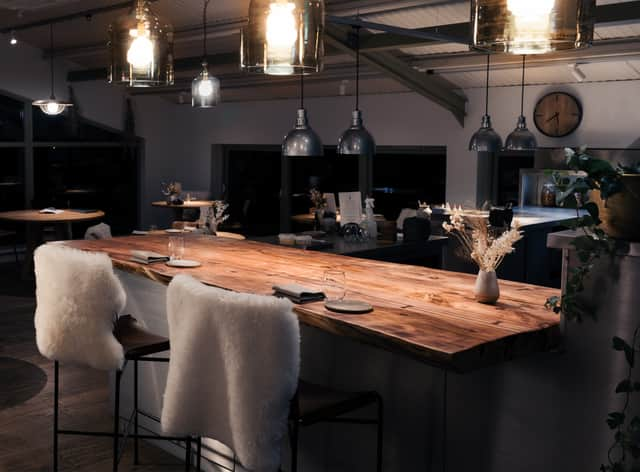 Pine's Chef's Table is available to book in the evenings only Wednesday to Saturday, from 7pm onwards. Guests joining for lunch can book the Chef's Table on Saturday's from 12pm. For more information and reservations, please visit the Pine restaurant website.