Chloe Ferry has shared a clip of herself and two friends racing through the airport as they nearly miss their flight to Marbella. Chloe and pals, Amelia, Abbie and Sophie, are seen running through the empty departure lounge pulling their branded luggage behind them.
Chloe, 27, from Newcastle upon Tyne, could be heard screaming in the clip posted on her Instagram Stories. She said "We're going to miss the plane" as her friends giggled behind her.
Chloe donned a low cut black lycra top and leggings, a New York Yankees black and white baseball cap and oversized gold shades as she carried a Louis Vuitton bag. With her long brown extensions, perfect tan and nude lips, the star looked ready to start her all-girls holiday in Marbella, Spain.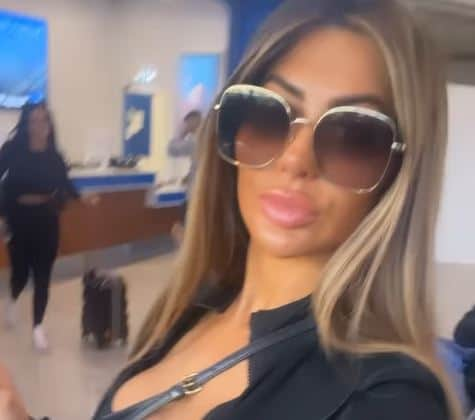 Previous to the last-minute dash, Chloe had shared clips of the trio enjoying a few drinks before their flight. Whilst initially it appeared that the women were just enjoying a few tipples to start the holiday, things proceeded to get a little more rowdy after a couple of sips of rose. Chloe shared a clip of her blonde friend, Amy, holding two pints of beer shouting: "We f**king love it" before being encouraged by Chloe to "kneck" them both.
Whilst indulging in some beverages the trio forgot about the time which led to a mad dash across the airport in order to board the plane. Thankfully they got there just in time and even had time to take a quick selfie before boarding. Chloe has recently been busy modelling for pnxfitwear and filming for a brand new Geordie Shore: The Reunion series.
The star was seen with co-stars, Marnie Simpson and Sophie Kasaei, on Tuesday (23 May) filming in Newcastle. The reality TV veterans were among other cast members, including Nathan Henry and James Tindale, as they headed to Leila Lily's bar in the city centre.
The star's are currently filming Geordie Shore: The Reunion Series, following the success of the first which saw cast members from across all previous 22 series take part.