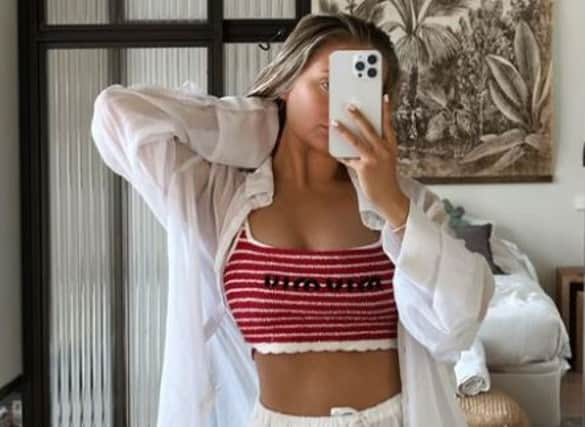 Molly-Mae Hague was spotted queuing at Manchester Airport on Sunday 14 May. The former Love Island star, 23, who lives in Cheshire, wore a grey hoodie, designer shades and a gold necklace with a letter 'B' pendant to remind her of her daughter, Bambi.
Molly-Mae was quick to post a snap after arriving at her lavish Spanish villa complete with an infinity pool and a luxury outdoor dining area. She showed off her toned and tanned tummy in a red and white striped Miu Miu crop top and loose fitting white summer trousers. Captioning her posts with a simple "good morning", Molly-Mae looked relaxed and happy.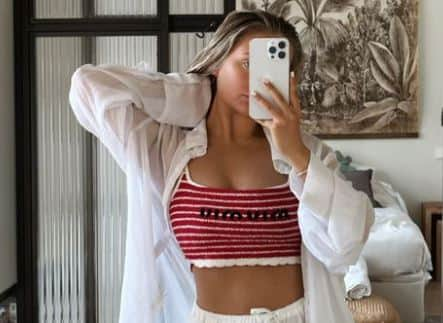 Whilst this trip to Spain is a working holiday for a new photoshoot, Molly-Mae has also taken flights to both France and Dubai in recent weeks making this her third trip abroad. In late April, The PrettyLittleThing creative director headed to Nice in the south of France to shoot a new collection, which marked her first time away from her daughter.
She admitted in a YouTube vlog to having had a "meltdown" over the way she looked during her first photoshoot since giving birth to Bambi. The influencer said she is "definitely way too hard on herself".
A few days after her return the family of three flew first class for a luxury family holiday in Dubai, where they snapped photos of Bambi dipping her toes in the Arabian Sea and modelling baby shades. Having already enjoyed a mixture of work and family holidays the star will once again be taking flight at the end of May as she, Tommy and Bambi head to the Caribbean to celebrate the wedding of Molly-Mae's manager, Fran Britton.
Molly-Mae's latest trip comes a day after opening up about the rollercoaster of emotions she has experienced as a mother.
On Sunday, she explained to her over 8 million Instagram followers how being a parent can differ each day. Molly-Mae said: "Being a mum consists of great days, bad days, normal days, overwhelming days, perfect days, sad days… a lot of days of just making it to the end of the day! But through it all, a crazy amount of love."