Perrie, who has been a member of popular girl band Little Mix for over a decade, took to Instagram to confirm the news to her 15 million followers.
In a series of clips including the initial proposal, an image of the two kissing and the ring she said: "Last night the love of my life got down on one knee and I said…YES!"
The former Arsenal man also took to Instagram to say: "Mrs Oxlade-Chamberlain to be"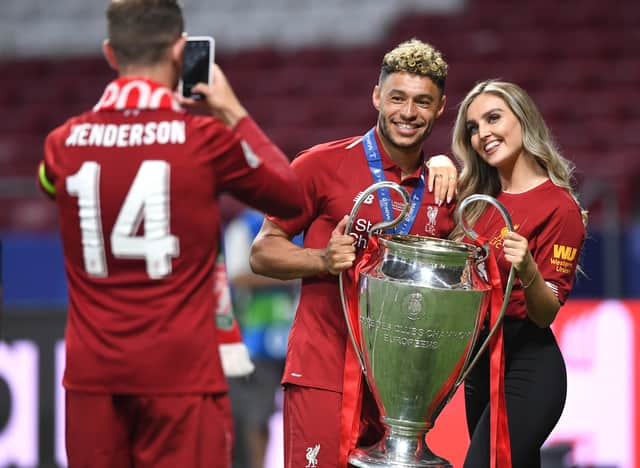 How long have the two been together?
The two first got together in 2016, when her partner was still signed to Arsenal, based in North London.
Whilst it's unclear how they met or were introduced to each other, since going Instagram official in January 2017, the pair regularly post pictures together on social media on a regular basis.
The couple made their first red carpet appearance together not long after, as they arrived at the 2017 Brit Awards.
Little Mix had an impressive night, winning the award for the Best Song for 'Shout Out To My Ex', and Oxlade-Chamberlain embraced Edwards as her band's name was read out.
Back in 2020, Edwards appeared on the morning breakfast show on Capital FM, and discussed marriage.
She said: "I appreciate him, we don't want to rush into it, you know what I mean? But it would definitely be a yes from me I reckon!"
Since meeting, it's been clear how often they are with each other, with Edwards being present for her beau's biggest night in his professional career, as he won the Champions League with Liverpool following a 2-0 victory of Spurs in Madrid in 2019.
Have either been engaged before?
Whilst Oxlade-Chamberlain's previous romances are relatively unknown, Edwards lived out her first big profile relationship right in the public eye.
She was in a relationship with former One Direction star Zayn Malik, with the two dating for a number of years.
The pair got engaged but unfortunately never made it down the aisle, after a very public and bitter break up in August 2015.
Zayn went on to date supermodel Gigi Hadid, and the two, whilst now separated, share a child together.
What is the ring like?
The engagement ring, which is an oval cut, featuring a big diamond in the middle is said to be 'incredibly rare' and is reportedly worth around £400,000.
It's also believed to be around 10 - 12 carats, which obviously has a significant bearing on the value.
Oval rings are popular commodities among celebrities nowadays, with the likes of Nicola Peltz (Brooklyn Beckham) Kourtney Kardashian (Travis Barker) and Blake Lively (Ryan Reynolds) all opting for oval rings.
Is Perrie Edwards pregnant?
Whilst it is currently unknown whether she is pregnant or not, one thing that is very well known is the two share a son together, Axel, who is 10 months old.
Axel is the first child of both Alex and Perrie.
Who is Alex Oxlade-Chamberlain?
Alex Oxlade-Chamberlain is an English footballer, who is deployed as a midfielder for Liverpool FC.
He rose through the youth ranks at Southampton, and made 36 appearances for the senior side before moving to Arsenal in 2011 for £12 million.
He spent six years in North London, winning the FA Cup before moving to Liverpool for £35 million, where he has won the FA Cup, Carabao Cup, Club World Cup, Premier League and Champions League.
He has also been capped 35 times by England.