Red Arrows confirmed for Great North Run flyover
The iconic sight of the Red Arrows flying above 50,000 runners as they pound the pavement in the Great North Run is set to return this year.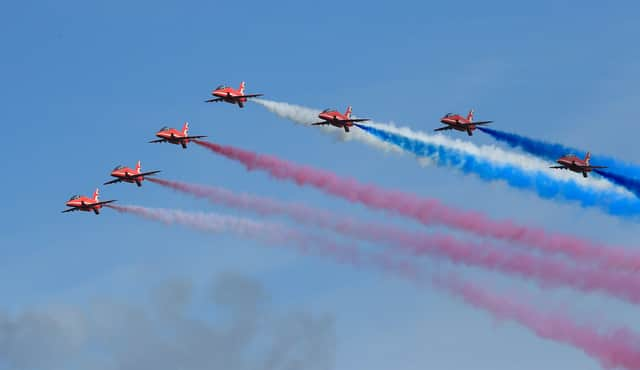 The route will start and finish in Newcastle with runners crossing the Tyne Bridge twice, once on the way out to White Mare Pool roundabout where they will loop around and return to the city centre.
The Red Arrows
Organisers have confirmed the Red Arrows will be giving a fly-by on Sunday, September 12.
And eagle-eyed visitors to Newcastle City Centre will have spotted the huge sign bearing the Great North Run name, being installed on the Tyne Bridge this week.
The Great North Run team shared their excitement over the Red Arrows return on social media and said: "They will be soaring across the skies of Newcastle on event day, so keep a look out for the iconic sight as they fly overhead. This is awesome, isn't it?"
The Route
For the first time the Great North Run will not end in South Shields due to covid restrictions and the impact on public transport.
The run will start on the Central Motorway in Newcastle and cross the Tyne Bridge as normal, following the usual route until a turnaround at Whitemare Pool.
There will also be a short out-and-back loop in Gateshead along Gateshead Highway, and runners will return over the Tyne Bridge before making their way through Market Street, John Dobson Street, St Mary's Place, and finishing at the Town Moor.
Running numbers, packs and start times
Runners' packs will start to arrive through the post after the August 23, will include their start time and arrival time for Sunday, 12 September.
Runners have been told: "If you have friends or family running in a different wave, you can move down a wave (to a later time) but you won't be able to move to an earlier wave."
Parking information
Newcastle City Council is offering participants the chance to pre-book parking at a selection of reserved city centre car parks for the day of the event.
Applications are open for parking spaces at the Eldon Square Multi-Storey Car Park (approximately a 15 minute walk to the start line).
For a flat rate fee of £3.00 you can park on September 12 at this car park up until the closing time of 10pm, with the car park reserved for participants with flexibility to arrive at a time that is convenient.
Pre-booked places are available on a first come first served basis.
Television
The Great North Run will be broadcast live on BBC Two between 8.30am and 09.30am on September 12, then footage will move over to BBC One until 1.30pm.
The details of the highlights show, normally shown on the Sunday evening, will be confirmed soon.