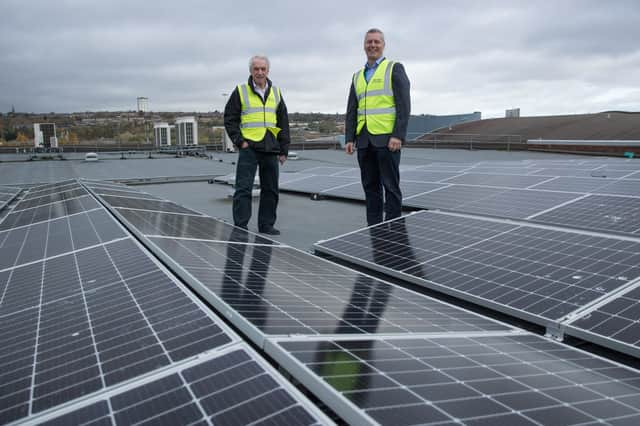 Gateshead's Metrocentre will get a modern new look as over 3,500 solar panels are installed on its roof.
The green-minded move aims to ensure a more sustainable future for the shopping centre.
The £2.8 million project is 50% funded by the European Regional Development Fund (ERDF).
Both rooftop and car port panels will be installed at the Metrocentre.
The solar panels will cover an area equivalent to the size of 88 tennis courts and will all be placed on the shopping centre's roof and on specially constructed solar car ports.
By March 2022 the solar car ports and 46 new electric vehicle (EV) charging points will be added to the Green and Blue Mall car parks.
When up and running, the project will generate an amount of energy equivalent to that needed to power 340 households ever year.
It's estimated that the electricity generated from the solar panel installation will result in a reduction of 315 tonnes of carbon dioxide emissions each year, equal to planting 32,500 trees over the system's 25 year lifetime.
With 46 new EV charging bays set to be provided as part of the project, the solar panels fitted above each parking bay will provide emissions-free 'fuel' for 7,230 electric car miles.
Gavin Prior, Metrocentre Centre Director commented: "We're delighted to announce we have successfully secured ERDF funding to launch this new and unique renewable energy project.
"A massive solar panel and car port installation of this kind has never been seen before in a UK shopping centre and upon completion of the project,
"Metrocentre will have the largest solar panel installation of any UK shopping centre.
"Solar energy is the first stage of building a more sustainable future for Metrocentre, by reducing our carbon footprint and bringing renewable energy to the local community.
"This project, and others like it, are an integral part of our long-term strategy for the centre which focuses on sustainability and our place in the community."
Coun John McElroy, Cabinet Member for Environment and Transport, added: "It's great to see Metrocentre committing to this exciting project, the biggest of its kind at a UK shopping centre, to generate power from solar photovoltaics, and to enable customers with electric vehicles to charge while they shop.
"Gateshead has an ambitious plan to go zero carbon by 2030, and we work in partnership with major stakeholders in the borough like Metrocentre, to embrace this vital agenda, and reduce their carbon footprint.
"As well as providing this key new infrastructure for EVs, Metrocentre already sees 23% of its customers arrive by public transport and we will continue to work alongside the team to further improve public transport provision, and enable more customers to walk and cycle to the centre, to help reduce congestion and vehicle emissions."