South Tyneside Mayor urges public to 'wear poppies with pride' for Royal British Legion 100th anniversary
The Mayor has asked the public to support the campaign after the Royal British Legion couldn't campaign last year.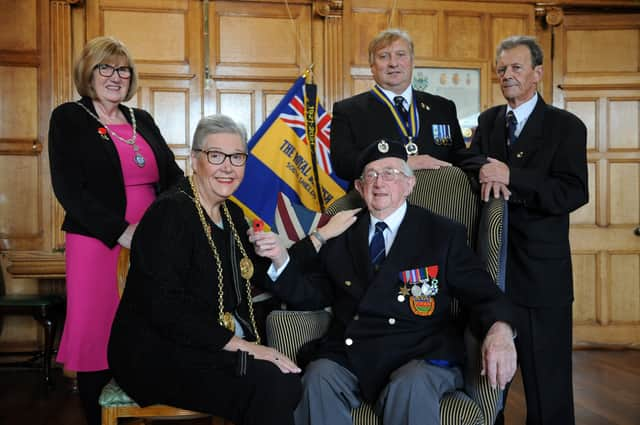 The Mayor of South Tyneside has urged the public to don their poppies this month as the Royal British Legion marks its centenary year.
The Mayor, Councillor Pat Hay, helped launch this year's Poppy Appeal when she bought the first poppy from the South Shields branch of the Royal British Legion.
The Mayor said: "It was a real honour to launch the local poppy appeal and help to pay tribute to the countless men and women who sacrificed so much to serve their country.
"Donations from the Poppy Appeal go a long way to providing much-needed support for serving and ex-serving members of the Armed Forces community and their families.
"The coronavirus pandemic led to increased demands on the Royal British Legion as it supported those dealing with new hardships, from losing loved ones and isolation to financial difficulties and unemployment. The work of the Legion is more vital than ever.
"The Mayoress and I will be wearing our poppies with pride. We hope that the people of South Tyneside will join us in supporting this year's Poppy Appeal. Every poppy counts."
This year's Poppy Appeal will see the Royal British Legion celebrate the 100th year of the campaign.
In 2020 they were forced to take volunteers off the streets and cancel all face-to-face fundraising opportunities for the first time in its history due to Covid 19 restrictions.
Peter Boyack, President of the South Shields British Legion Club, said: "This year is a special year for the Royal British Legion as it celebrates its 100th anniversary. Our volunteers are also able to return to face to face fundraising.
"The people of South Tyneside have always been very generous and supportive of the Poppy Appeal and for that we are extremely grateful.
"As the impact of the pandemic continues to leave some members of the armed forces community in need of support, help from the Poppy Appeal is as important as ever.
"Contributions from the Poppy Appeal make a real difference to those facing hardships, injuries or bereavement.
"We hope that once again local communities will support us to ensure the continuity of vital services and support for our armed services families."