'Tackiest time' Poll reveals that Geordies would hate to get engaged on Valentine's Day
The poll was conducted by Britain's leading stag and hen company, Last Night of Freedom.
Watch more of our videos on Shots!
and live on Freeview channel 276
Visit Shots! now
A poll conducted by Newcastle-based stag and hen company Last Night of Freedom has revealed that Geordies would not like to get engaged on Valentine's Day, describing it as "the tackiest time".
It is viewed as the most romantic day of the year, with around 15,000 British couples getting engaged on Valentine's Day, making it one of the most popular dates for proposals to take place.
However, the poll revealed that around 88% of Geordies said that they hated the idea of being proposed to on Valentine's Day.
It was also revealed that 75% of Geordie's would return a ring they don't like, even if it hurt the feelings of their fiance.
"When it comes to love and romance, spontaneity and originality are clearly what matters the most to people," said Matt Mavir, Managing Director of Last Night of Freedom.
"And clearly waiting until Valentine's Day to pop the question is, to most people, the height of laziness. Many told us that they felt it was corny – with some even suggesting it might even make them say no."
The poll also revealed that many don't expect an overly expensive ring - with a £1,000 ring being described as an "adequate amount" to spend, while others said that they would be happy with a ring that cost just over £100.
"I think the cost-of-living crisis has sobered a lot of people up to what really matters when it comes to spending," added Matt.
"Forking out thousands on a glitzy ring seems a bit frivolous in the current climate, especially when many of those popping the question will face the same struggles that we all are when it comes to paying basic household bills.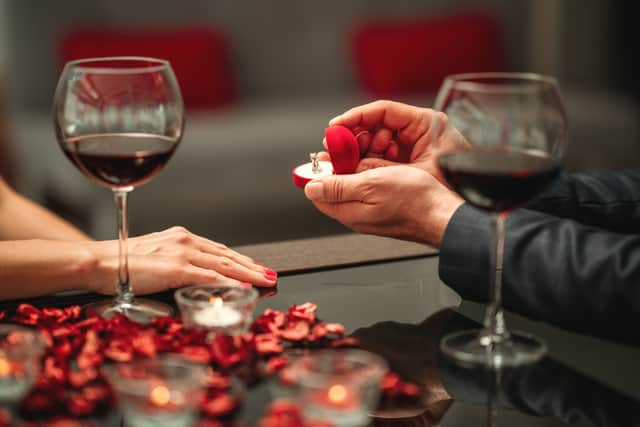 "People are prioritising their spending, and what we are seeing within our industry, is that many would prefer to spend less on lavish items and more on shared experiences – especially on the back of covid, when years of potential memories were snatched from us all – so they'd rather save on the ring and spend more on the wedding or stag and hen parties."