Sam Fender fans are hoping that the North Shields star might make a cameo appearance during The 1975 show at the Utilita Arena in Newcastle on Wednesday evening.
The Brit Award-winning band will bring their The 1975: At Their Very Best tour to the North East this week, in what will be a homecoming for frontman Matty Healy, and concertgoers are trying to will a Fender appearance into existence.
There is method to the madness behind the thoughts of fans. So far on tour, The 1975 have brought out a number of high-profile names to perform on stage.
The band's stage set up for this tour is the inside of a house and halfway through the set at a couple of dates, a special guest has knocked on the door and entered the home. Each artist then performed a song of their own.
In London, Taylor Swift appeared at The O2 to much social media clamour and at Manchester's AO Arena it was Charli XCX who treated the crowd to a version of the rip-roaring 'Vroom Vroom'. On the US leg of the tour, Phoebe Bridgers was at the Kia Forum in Inglewood, California.
The 1975 frontman Matty Healy and Sam Fender are pals
More often than not, there hasn't been a special guest at The 1975 shows but there is reason for Fender fans to dream big ahead of Wednesday night.
The two have crossed paths at award ceremonies and are in each other's phone books with Healy admitting that Fender gave him a ring after boozing with Johnny Depp on the Newcastle Quayside. The 'Seventeen Going Under' singer has also put Geordie questions to The 1975 on Greggs and stottie bread in the past.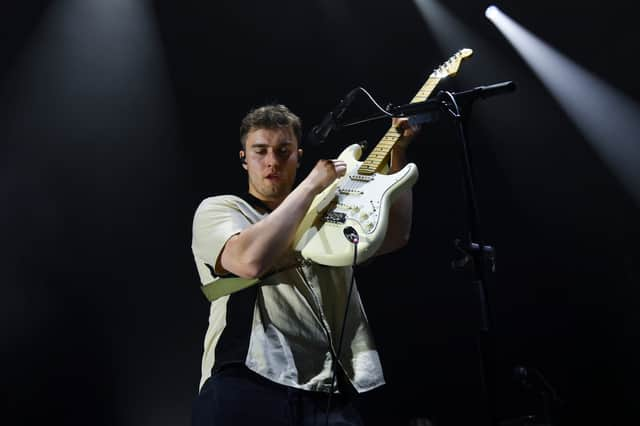 Speaking about his love for the band in 2019 to Virgin Radio, Fender said: "Every time I see Matty, I can't help but fanboy really hard. I saw him at the GQ Awards and went over and said, 'that album is just ridiculous, you're class like'.
"His parents are Geordies and when I was in Japan this interviewer said Matty told her to tell me something Geordie. She had the phonetics written done in Japanese and went, 'al-reet son'."
Sam Fender fans 'hoping' and 'calling' for a cameo at The 1975 show
There are absolutely no guarantees, or even suggestions from either artist, that a team-up on Wednesday night is on the way - but it hasn't stopped fans from thinking about it.
Writing on Twitter, one user said: "Calling it now The 1975 will bring out Sam Fender next week at Newcastle."
Others said "I'm still hoping the 1975 will bring sam fender out in Newcastle" and "no, because if you even think about getting on stage at The 1975 Newcastle gig, Sam Fender".