The Gosforth bathroom supplier striding to make his late mentor proud
The Pristine Kitchens & Bathrooms mission is inspired by business owner Paul's former mentor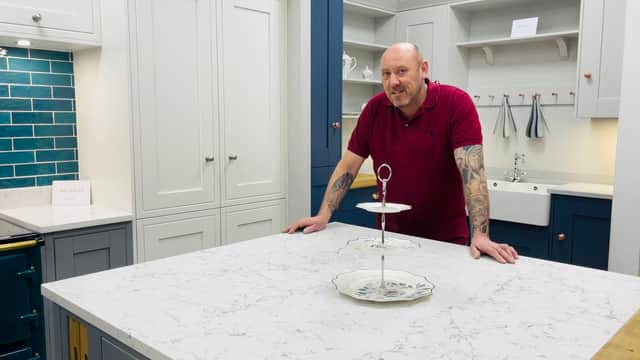 Paul aims for nothing but the best at Pristine Kitchens
That's a lesson Paul has learnt after more than 30 years of experience in the industry, moving around all of the biggest installation companies.
Installing kitchens and bathrooms is the Newcastle local's bread and butter and now, alongside his fiancee Emma, Paul has left those big companies to provide a more reliable and rewarding personal experience.
The idea for Pristine Kitchens & Bathrooms was set into motion years ago when Paul was just a "young lad".
While cutting his teeth in the industry Paul crossed paths with a colleague called John, who would touch his life in a great way.
Paul said: "I ended up in a place called Bathrooms Today with a partner called John, when I was a young lad really.
"John was a mentor for me in the 20 years I worked for him.
"In 2014 I was working for another company and I decided I'd had enough, so set up Pristine Kitchens & Bathrooms.
"In 2018 we took this store on and John was by my side."
Tragically, John passed away with cancer before lockdown hit in 2020.
A Pristine Kitchens & Bathrooms installation
It was hard news to take for Paul and Pristine Kitchens & Bathrooms, but also a further motivation as to why he launched the project in the first place.
Paul said: "John's death was the push to get it to what he had wanted.
"We had plans, he'd come out of retirement to help me.
"He wasn't doing it in any role apart from as a father figure.
"He came for a couple of weeks, and stayed for a couple of years."
That local, family feel is at the heart of what Pristine Kitchens & Bathrooms do.
The company aims to provide quality "start to finish" experience for customers that will last years, rather than the cheap, mass-produced products that so often leave customers frustrated or, as Paul puts it, 'buggered'.
Pristine also launched a 'More Than Tiles' extension to the company, focusing on wall and floor tiles with exclusive products.
Paul said: "It's taken a while and even today it's not a walk in the park.
"There's so much competition online with people who flood the market with rubbish. That's where we are different.
"We support the manufacturers and they support us.
"We've gone from a mediocre start to a high-end showroom."
Paul and the team, which can be of up to 10 people depending on work, tackle projects across the North East from Berwick to Middlesbrough, as people seek out specific designs.
Pristine prioritise quality fittings
Paul said: "People know what products we use and are looking for that, I'm the only one that's got it.
"We want good quality brands people want, not something you can buy off the shelf at other shops that breaks after a year.
"You get what you pay for, if you want a bathroom for £3,000 you're going to get £3,000 of rubbish.
"An average bathroom in this day and age is £10,000.
"That includes a guy's labour, someone's 30 years experience, his tools, his knowledge, for him to come to collect the products and take them to you... there's a lot you're paying for.
"Rather than replacing it every three years, my bathroom is going to last you 15 years, that's what Pristine do."