There has been a noticeable increase in celebrities getting their lip filler dissolved in recent months. Lip filler injections became hugely popular over the past few years, with women and men across the country looking to enhance their natural lip shape for aesthetic purposes.
However, the trend of plumped lips has seemed to have come to a halt, especially after influential celebrities such as Love Island's Molly Mae Hague and Geordie Shore's Charlotte Crosby decided to get their lip filler dissolved.
Charlotte, who has frequently starred on MTV reality television series Geordie Shore since its beginning in 2011, has always spoken candidly about her decision to have lip filler injections.
However, after the birth of her first child - Charlotte made the decision to have her lip filler dissolved. She documented the procedure on her YouTube channel with a video titled 'Getting my LIP FILLER DISSOLVED (SHOCKED)'.
We spoke to two women from the North East who chose to also get their lip filler dissolved.
Alexandra, 28 from South Shields explained that she chose to have her lip filler dissolved after the filler had migrated above her lips. She said: "I'd been getting filler for around three years. However, last time I had it done it had migrated above my lip, so I had an awful shadow."
Alexandra further explained that she chose to get the filler dissolved with the intention of getting more filler injected at a later date.
She continued: "It didn't hurt half as much as getting them filled. It swelled pretty much right away but as the day went on it completely disappeared.
"I would say my lips were quite wrinkly for about two weeks as it breaks down some of the body's natural hyaluronic acid, but that comes back after the body produces more."
Georgia, 28 from Newcastle had been getting lip filler since 2014, after thinking her natural lip size was too thin for her face. Georgia felt much more confident with her fuller lips, however in 2020 Georgia was unhappy with her lips after being injected with a different, cheaper product by "an inexperienced practitioner" that made her lips look "lumpy, slightly overfilled, and obviously fake".
Georgia explained: "Despite knowing they weren't good, I almost psychologically didn't feel ready to dissolve. The weird thing with filler is that as it's your face and you see it so often, you kind of become blind to the size.
"Coupled with how it's so instant a change and can give you an immediate boost, I can see how it becomes addictive."
Georgia returned to her original practitioner, SG Aesthetics located in Morpeth - who recommended a full dissolve and start over. "She's very responsible as a practitioner and refused to put it in anymore."
Georgia believes that getting filler dissolved is much more painful than getting filler injected. Like Alexandra, Georgia also chose to eventually get more filler put in, but this time only with half a millilitre of product.
She explained: "It turned out I really loved the more natural look. By this point, having filled lips was falling out of fashion, so I'm sure I was also influenced by this.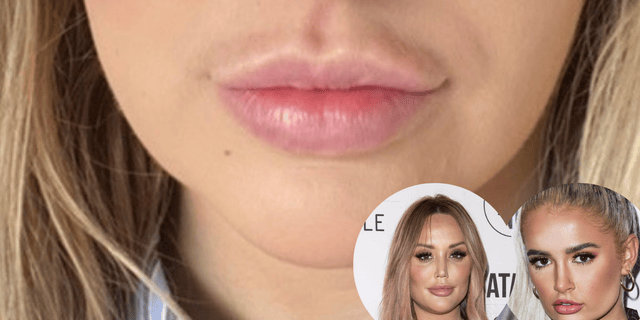 "I haven't had any further filler since, and I don't think I would ever refill my lips beyond where they are now."