Thug spared jail after 'disgusting' homophobic Metro attack leaving couple 'covered in blood'
Thug spared jail after 'disgusting' homophobic Metro attack which saw couple left 'covered in blood'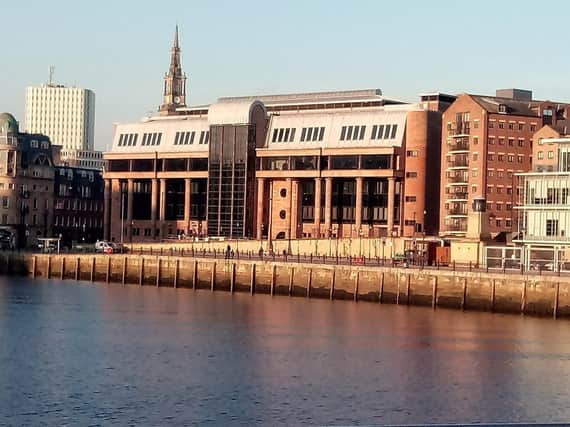 A thug who carried out a shocking homophobic attack on two strangers at a train station has kept his freedom.
The couple had been "minding their own business" on the platform at Whitley Bay Metro in North Tyneside, on December 5 last year when Thomas Bailey, who was on cocaine, started arguing with someone he was with.
Newcastle Crown Court heard when one of the victims "glanced" in his direction they were subjected to a sickening tirade of abuse and violence that was witnessed by horrified passengers, including children.
Prosecutor Joe Culley said the men had tried to walk away but added: "The defendant shouted and swore at him, saying 'what were you looking at'.
"He was shouting 'is that your boyfriend, you dirty f******', asking him for a fight."
The court heard on top of the disgusting homophobic abuse, Bailey hurled vile racial slurs at one of the men before he physically attacked them both, using weapons, and caused injuries.
Mr Culley added: "Both were left covered in blood at the scene.
"As the defendant was leaving he was shouting things at them, 'you don't know who I am, I know where you live, I know who your families are'.
"Members of the public were present, children were showing distress. One young child said 'mammy why has he got red sauce on his head'.
"Five members of the public telephoned 999."
The court heard both men were taken to hospital where their face and head injuries were glued.
When Bailey left the area he went to a nearby hotel and shouted abuse at the duty manager, who he called names and issued threats to kill her and her family.
Bailey, 21, of Gilsland Avenue, Wallsend, North Tyneside, admitted racially aggravated assault, assault and a public order offence.
Jennifer Coxon, defending, said Bailey had a troubled childhood and spent time in care, which impacted his development.
Miss Coxon said Bailey acts in certain ways through "bravado", is remorseful for what he did and could be rehabilitated.
Miss Recorder Caroline Sellars said Bailey's behaviour was "thuggish" and "disgusting" but he could be given a chance given his mitigation.
Bailey was sentenced to 29 weeks, suspended for 18 months with rehabilitation requirements.