TikTok star Cameron Kirk talks Newcastle United memories, Great North Run and emotional London Marathon goal
Over the last two years Cameron Kirk has grown a following of 1.2 million on TikTok - the Newcastle star talks us through his story.
Watch more of our videos on Shots! 
and live on Freeview channel 276
Visit Shots! now
When Morpeth-born Cameron Kirk posted his first TikTok as a joke with some mates back during the first lockdown, he had no idea where that short video would take him.
Over the past two years the 22-year-old has watched followers enjoy his videos in their tens, then hundreds, then thousands... now there are an eye-watering 1.2 million who follow him on the app.
When not on the app, Cameron is often found pounding the pavements as an athlete, running a speedy Great North Run earlier this month. Now his eyes are set on the London Marathon on Sunday.
The TikTok star, who is currently studying on a Primary Education course in Sheffield with ambitions of becoming a teacher, talks to NewcastleWorld about his social media rise and the emotional motivation behind the London Marathon challenge.
Q: Thanks for chatting with us, Cameron. Tell us about your connection to the North East?
A: I originally grew up in Morpeth and lived there for 18 years. I went to school in Newcastle and we moved into the city when I was 18. I've lived there since, I'm 22 now, and loved it. My dad is born and bred in Newcastle and my mum is Scottish - my dad never wanted to leave the North East so my mum moved down here from Scotland.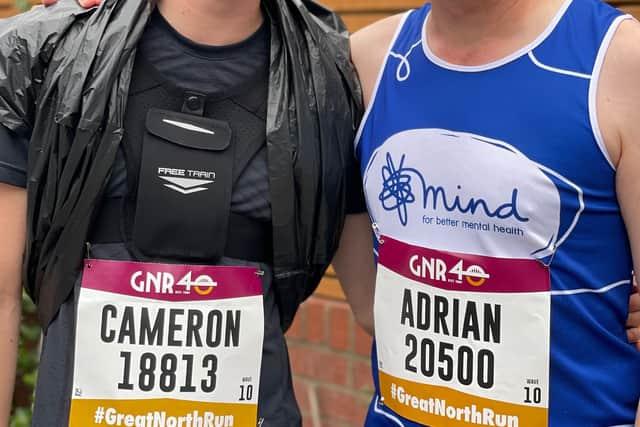 Q: What is it you love most about Newcastle, are you a Magpies fan by any chance?
A: I'm a Newcastle fan through and through. My shirt is in the cupboard behind me! My first game was against Middlesbrough. I went with some friends and his dad. I think it was 1-1 and we scored in the 90th minute. We had left early to avoid the mad crowds as I was about seven, so missed the goal. I refuse to leave early now!
Q: You've grown a following of 1.2 million people on TikTok, that's quite something! How did that all start?
A: It all started back in the first lockdown. I had a competition with some friends to see who could get the most views on TikTok and my content just started to grow. I posted some comedy voiceovers, which I do now, and I started to gain the numbers and it grew and grew... now we're here!
Q: What was the reaction from friends and family back home when it started taking off?
A: My friends all thought it was funny to begin with, and my parents did too - that was until I asked them to join in! My mum loves to get involved but my dad was maybe slightly more reluctant at first because we'd make him dress up in funny outfits. Nowadays he's very happy to get involved and my mum is always desperate to be in one.
Q: More recently followers online will have seen you posted a phenomenal one hour 18 minutes at the Great North Run. That's quite something - you must have some sort of running background?
A: I started running after the 2012 Olympics and joined Morpeth Harriers for six or seven years. Then I came to uni and life took over with going out and clubbing, Covid too. I didn't run for the first two years of uni and then last year did the Great North Run and thought, I'm going to start running properly again. I run five or six times a week now, did the Great North Run and now onto the London Marathon. I love running, I find it so freeing when I've had a stressful day.
Q: The Great North Run was particularly powerful this year. As a local lad, what is it that makes the event so special do you think?
A: It's such a family thing, we've always come together on the Great North Run weekend. Me and my cousins would always do the Junior Great North Run on a Saturday and wear pumpkin outfits with green things on our heads, then go to the start line to watch our parents do the Great North Run. We loved that and when I was old enough was so excited to do it myself.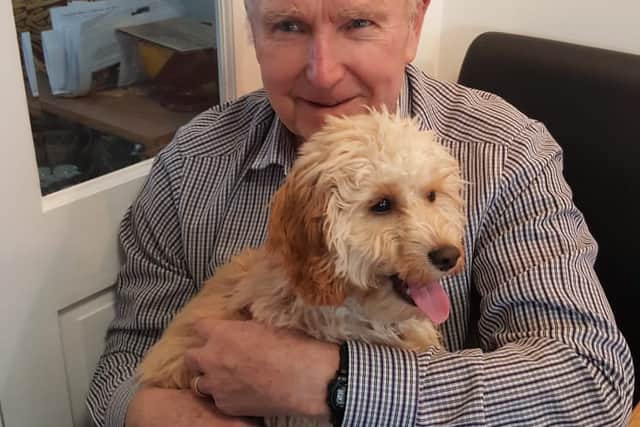 Q: Next up for you is the London Marathon on Sunday. This one is particularly special for you and the family given the cause?
A: My grandad was diagnosed with Parkison's 12 years ago. Parkinson's UK did a lot for him. My plan was always to do the London Marathon for Parkinson's but when I didn't get a place in the ballot I contacted the charity with my story and said they'd done so much for my grandad. I had hoped to do this and for him to be able to see it, but sadly he passed away in early January so it's got even more meaning to it now. My necklace has his date of birth on it because we were really close so he'll be there on the run with me. It's very close to my and my family's heart, I want to give back to them.
You can support Cameron's London Marathon run for Parkinson's UK here.