Runners are counting down the days until the UK's best known half marathon returns, and councils have begun to unveil their plans to ensure the 2022 Great North Run can be as smooth as possible.
Around 60,000 participants are expected to run the route from Newcastle to South Shields on Sunday, September 11 and the weekend is one of the region's busiest with runners, their families and other spectators across the UK and beyond descending on Tyneside.
According to South Tyneside Council, the road closure process across the weekend in the area will be completed in eight parts. This is to ensure the minimal amount of disruption across the affected areas while still allowing organisers to get the coastline race ready.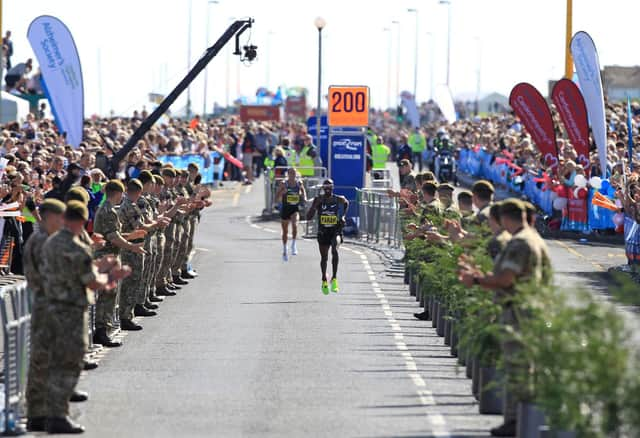 Which roads across South Tyneside will be closed for the 2022 Great North Run?
Part one of the closure system is over two roads, the A167 Central motorway and the Cowgate roundabout and Grandstand Road interchange up to the Great North Road (B1318) Interchange. These will be closed from 8pm on Saturday, September 10 until 6:20pm on Sunday, September 11.
Part two will be in place between 8:45 and 5pm on race day and includes the A167(M) Central motorway including the Tyne Bridge and Great North Road Interchange (B1318) to Park Lane (A184) which is the race route.
The next part of the system lasts between 8:45am and 5pm on the same day. This covers the A184 Park lane and Felling Bypass to Whitemare Pool Interchange while part four sees the A194(M) Whitemare Pool Interchange with Leam Lane to John Reid Rd roundabout (A1300) closed between 9:45am and 4pm.
The fifth closure includes John Reid Road (A1300), Prince Edward Road (A1300) and the Redwell Lane and Coast Road roundabout which is closed from 9:45am until 4pm.
The next set of closures follow the Coast Road from Redwell Lane to Mowbray Road which is closed from 8am until 5:30pm and Bents Park Road including Sea Way to Mowbray Road between 2:45am and 5:30pm.
The final closure is on the northbound route along Coast Road from Marsden Rock to Redwell Lane between 2pm and 5:30pm.
All dates are for Sunday, September 11 unless stated otherwise.