New Metro trains set to have two defibrilators on board every service
The equipment can support anyone having a cardiac arrest.
Watch more of our videos on Shots! 
and live on Freeview channel 276
Visit Shots! now
The Tyne and Wear Metro's new train fleet is to have life-saving defibrillators in every driver's cab.
Nexus, the public body which owns and manages Metro, said that all 46 of its new Stadler trains would have two defibrillators on board. This will mean a total of 92 new defibrillators.
The devices will be stored inside each driver's cab. Defibrillators deliver an electric shock to the chest to restore a person's heart to a normal rhythm after they have suffered a cardiac arrest.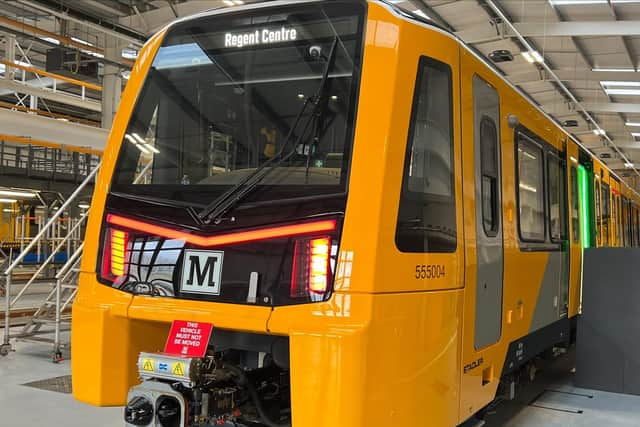 Major Projects Director at Nexus, Cathy Massarella, said: "Defibrillators are a fantastic and life-saving addition to our new Stadler train fleet.
"We are getting 46 new trains and every single one will have two defibrillators on board for use in the event of a medical emergency. These devices save lives when someone suffers a cardiac arrest. I am sure our customers will be pleased to hear that all of our trains are going to have them.
"The new Metro fleet is going to be transformational for Metro and this is one of the many wonderful, modern new features of this £362 million project."
Adrian Wetter, project manager for Stadler, said: "Stadler trains are built with the passenger in mind. All of the features in the saloon are to make the travel experience safe, reliable, comfortable and convenient, relying on the best technology available. We are pleased that, working with Nexus, we are able to install defibrillators in each train, promoting the health and wellbeing of passengers and potentially, saving lives."
Defibrillators are intended for use by anyone in public places. They are found in schools, airports, leisure centres, hospitals, clinics and ambulances.
Nexus has previously installed defibrillators at three of its busiest stations, Monument, Haymarket and Heworth but it has never previously had the equipment located on its trains.
Customers will get to travel on the first new train when it enters service at the end of the year and will offer an open plan layout while setting new standards for accessibility and energy efficiency according to Nexus.