Over eight million households on means-tested benefits will automatically get the first instalment of £326 from this month.
The payment is to help with the cost of living crisis that has gripped the nation, and is in place to help those who need it most.
Resolution Foundation data shows that inflation was due to hit 8.4 percent across 2022, the highest rate since 1981.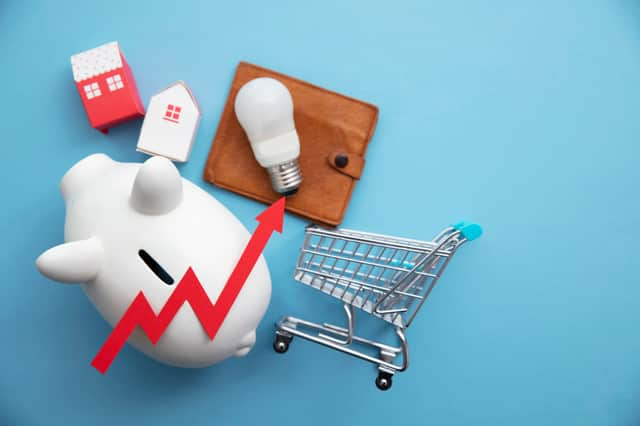 What is the Cost of Living payment?
As part of the government's £37 billion support package, almost one in four families across England, Wales, Scotland and Northern Ireland will get £326 sent directly to them from today - 14 July - with the second instalment of £324 sent later this year.
It is to help low income families battle rising inflation amid the cost of living crisis which has seen many people struggle to make ends meet.
Rising inflation has occurred in general goods, with bills such as energy and gas also skyrocketing, as well as the sharp rise in petrol and diesel prices.
When is the first payment?
Families who are eligible to receive this support from the government will start to receive their first payment today, but some may not receive it until the end of July.
Work and Pensions Secretary, Thérèse Coffey said: "This first instalment of £326 should reach all eligible low-income households by the end of July."
Who is eligible?
To be eligible for the first instalment, families must have been entitled to a payment (or later found to be entitled to a payment) of either:
Universal Credit for an assessment period that ended in the period 26 April 2022 to 25 May 2022
income-based JSA, income-related ESA, Income Support or Pension Credit for any day in the period 26 April 2022 to 25 May 2022
What has the Government said?
On the scheme, Prime Minister Boris Johnson, who is set to be replaced in September said:
"Just as we looked after people during lockdown, we will help them get through these tough economic times.
"Today's payment is the signal to millions of families that we are on their side and we have already promised more cash in the autumn, alongside other measures – including our Help for Households – to support the vulnerable and ease the burden."
"It's great that millions of the families who are most in need are starting to receive their Cost of Living Payments, which I know will be a massive help for people who are struggling.
"Alongside tax cuts, changes to Universal Credit and the Household Support Fund, these payments are a vital part of our £37 billion support package to help people deal with rising prices."
How many families are eligible in Newcastle?
Newcastle upon Tyne Central - 19,100
Newcastle upon Tyne East - 13,800
Newcastle upon Tyne North - 12,500
When is the second payment?
The Department for Work and Pensions (DWP) are making the payment in two instalments. The first is due to be sent out by the end of July, and the second payment of £324 will be sent out by the DWP in the autumn.