It was an emotional day for Gateshead, as the friends and family of Tomasz Oleszak alongside other supportive members of the Gateshead community gathered to watch a memorial football match in honour of the 14-year-old, who tragically lost his life in a suspected stabbing.
The match was arranged by Cleveland Hall FC, and played by two teams from their Under 15 club - the team Tomasz played for before his passing. The match was set up in memory of Tomasz, and to raise awareness of the dangers of knife crime.
Chair of Cleveland Hall FC Bob Boustead, who had known Tomasz since he joined the club, originally for the Under 7 club, spoke fondly of Tomasz and his talent for football. He also spoke of the disbelief of hearing the news of Tomasz's tragic death. "A lot of the players and officials didn't know how to handle it." However, he then discussed how the community then came together in order to support Tomasz's family, and how the football team arranged the match. "We couldn't think of a better way to honour the life of Tomasz," he said.
The players wore kits with the charity, Lives Not Knives on the front. The charity is youth-led, and works to prevent knife crime amongst youngsters. Some of the kits worn also had "RIP Tomasz" written on the front.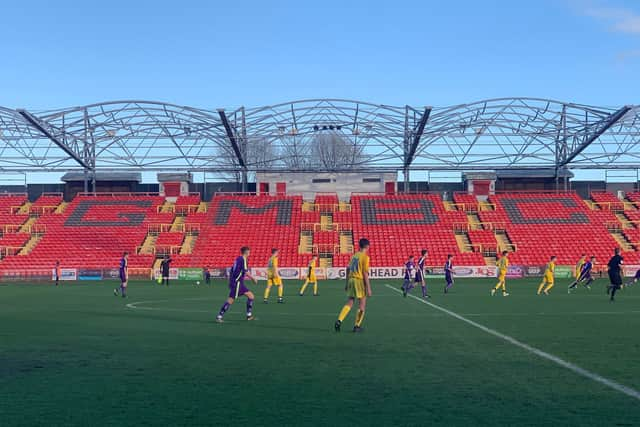 Northumbria Police and Crime Commissioner Kim McGuinness spoke of how important it is to raise awareness of knife crime, and to further prevent it. She said: "One incident is too many, and one young person losing their life in this way is too many." She spoke of how the police will be further working to prevent knife crime, by visiting schools to educate children on the dangers of knife crime, as well as police patrolling within communities to a greater extent. "It is absolutely vital that we redouble our efforts to prevent crime like this from happening," she said. Knife Amnesty bins, where members of the public can surrender knives and other harmful weapons are available across the North East in police stations.
Before the match, Tomasz's parents and younger brother were presented with a book of condolence and a Cleveland Hall FC football shirt which had Tomasz's name and number 15. Tomasz's parents said: "We wish he could be here to see how many people have come together for him." A minute silence was held for Tomasz prior to the match. The crowd then clapped for Tomasz at the 15th minute of the match.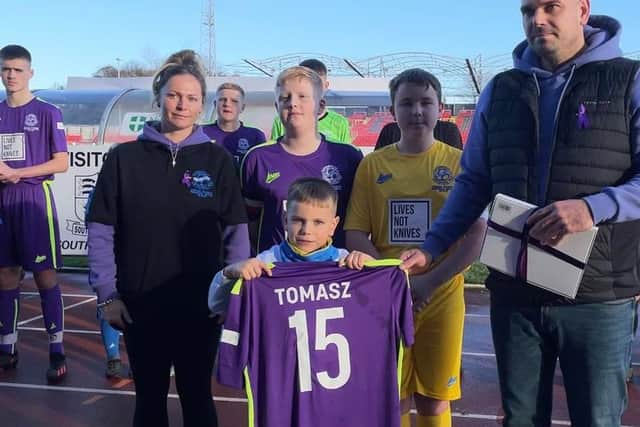 After the match, a friend of Tomasz's delivered an incredibly heart-wrenching speech on the loss of Tomasz and about their friendship. He said, "you meant the world to me and it broke my heart to hear the news of your death."
Those who took part in the memorial match including young mascots, referees and players of Cleveland Hall FC were then presented with a special medal from Deputy Mayor of Gateshead, Councillor Robert Waugh. He said: "It is important for Tomasz's friends and family to come together, to have that positive memory of what he loved."
800 tickets were sold, and a raffle was held, with all proceeds being donated to Tomasz's family.