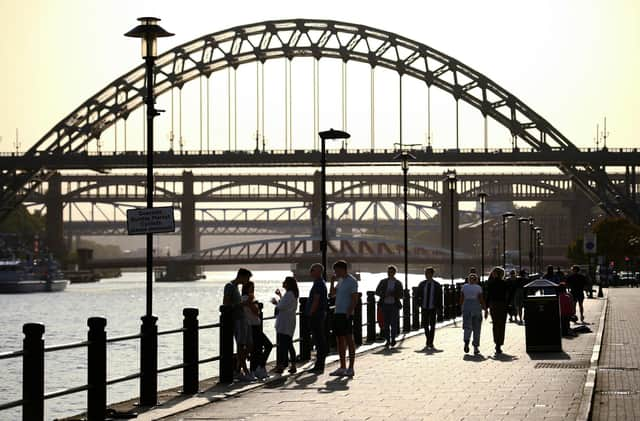 The upcoming bank holiday weekend marks the final three day weekend for many UK workers until the festive period and, while this may be the final chance for many to lap up some additional sun, all eyes are on weather forecasts.
But will Newcastle be basking in the sun to close the month or will it be another traditionally grey Bank Holiday weekend?
According to the Met Office, the weekend will start well on Tyneside with minimal chances of rain. After a few days of cloud, sunshine will start to break through as Saturday morning continues. Minimal chances of rain will be matched by low levels of wind, although temperatures are unlikely to reach 20°C.
Sunday is expected to see much of the same with wind speeds reduced even further according to the Met Office, in addition to periods of clear, bright skies throughout the morning.
This good weather is expected to fade as the afternoon continues, with clouds expected from around 4pm with highs of around 18°C.
The Monday of the next bank holiday weekend is expected to remain dry, much like the rest of the weekend, albeit more cloudy. Dark clouds are expected over the region by the evening although rain is unlikely to fall and clouds are also expected to stop temperatures from reaching anything over 16°C.
When is the bank holiday weekend and are there any more in 2022?
The next bank holiday weekend covers Saturday, August 27, Sunday, August 28 and Monday, August 29. It is the final regular bank holiday weekend of the year with the next allocated days off coming around Christmas. These final two bank holidays of the year will fall on Boxing Day and Tuesday, December 27.
Previous Bank Holidays have come as a result of New Year's Day, Good Friday and Easter Monday and Queen Elizabeth II's Platinum Jubilee in addition to another day on Monday, May 2.
The bank holidays this year were switched around slightly to accommodate June's Jubilee celebrations. 2023 will see the calendar return to usual, although the August Bank Holiday will remain as the final one before Christmas.