A red weather warning has been issued in parts of the UK for Friday, with Newcastle and the North East remaining on the lesser level of yellow for the next 24 hours.
High winds are expected in the region - some up to 90mph with accompanying snow - and this Blyth resident is fearing the worst after being hit by repeated storms, and the subsequent damage, over the last few months.
During Storm Arwen David Addison's home was damaged by the storm. Fast forward to Storm Malik in January and part of his roof is completely destroyed.
Inside the house there is damage to the ceiling and some water damage to go with needed roof repairs.
Addison, speaking about that moment he realised his house was damaged, said: "I was just sat here having a cup of coffee reading the morning paper and heard just a horrendous crash.
"Looked out the front window and I saw my wall insulation swirling around in the sky. Out the back window I saw half of my house in my back garden.
After sorting insurance on the property workmen arrived to start fixing the damage the storm caused.
The work in Addison's home remains ongoing and he now worries the damage will get worse as Storm Dudley and Storm Eunice hit.
He said: "The builders have been out but there's only so much they can do at the minute because of the storms.
"They've barricaded it as much as they can and made it as strong as they can and we've just got to hold tight and wait."
Workmen across the region will be busy whilst the storms rip through the North East and the team at Trustmark Roofing and Building have already seen an uptake in calls for damaged roofs.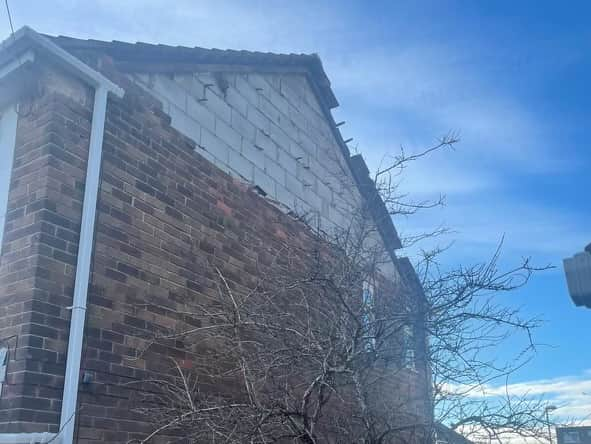 Company Director, Chris Dodds, said that the number of calls his team have received has been huge and they are struggling to keep on top of it after storms keep hitting there region.
He said: "With us roofers when we hear there's a storm we are rubbing our hands together thinking here we go here's a little bonus to keep us busy for the next few months.
"But this is now storm three in as many months and our backlog is at 10 weeks now so how much more can we physically fit into our day."