Young Gateshead Harriers athlete gives touching message to coach as he becomes National Champion
17-year-old Josh Blevins had a weekend to remember in Birmingham
Watch more of our videos on Shots!
and live on Freeview channel 276
Visit Shots! now
A young Gateshead Harriers athlete flew the flag for the North East last week and emerged triumphant as National Champion.
The 17-year-old runner competed in the English National Under 17 5k Championship 2022 at Sutton Park in Birmingham on Saturday, April 9.
Already Northern Champion, Blevins went into the race with confidence high knowing he "had a chance" of taking the win.
Blevins said: "I started off and took it sensibly.
"I've run at Sutton Park before and knew from experience it was a fairly hilly course so I needed to save a bit of energy.
"There were some lads who got a bit carried away I think, going quite fast at the start towards the hill.
"I had them in my sights and said to myself, I've just got to stay there or thereabouts to have a chance."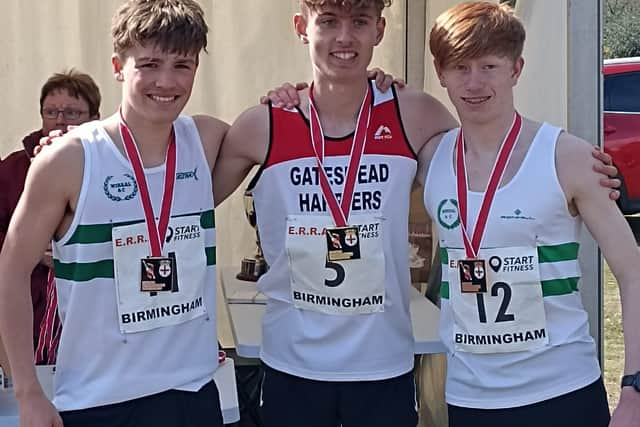 The athlete stuck with the pack for the first two kilometres of the race before a group of five runners broke forwards.
He said: "Every kilometre there seemed to be a person dropping off.
"We got to the halfway point and the downhill section, there was a bit of a race between me and second.
"He started taking advantage of the downhill and put on a spurt, I had to catch back up to him.
"Once I did, because of my 1500 and 800 metre running, I knew I had good speed at the end.
"I made my move in the last 100 metres. I could've gone earlier but didn't want to waste my surge."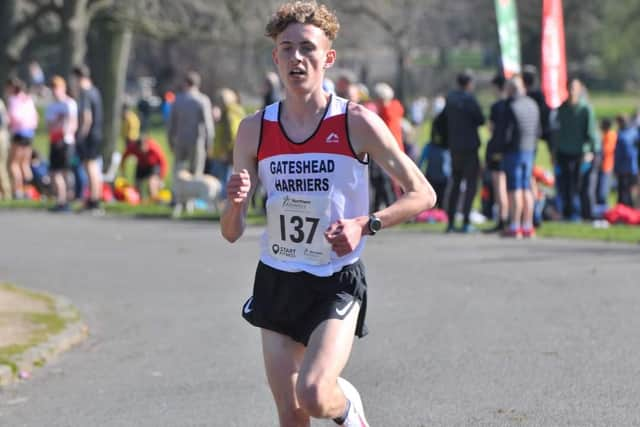 Blevins came home in an impressive 15:31, three seconds ahead of the second-placed athlete from Wirral.
It was a win that meant a lot for the Gateshead runner, who is coached by John Stephenson - a much-loved figure on the North East running scene.
The Gateshead Harriers coach has been poorly of late, and unable to follow his young star's success as keenly as he had become known for.
Blevins said: "Every single race I've gone into I've thought of him and the good times we've had together.
"All the work he's put in with us and all the times we've been out in the cold and rain. He always turned out.
"That's always been in the back of my mind.
"He might not be watching us but he'll be thinking about us. I've got to do my best for him."
Founded in 1904, Gateshead Harriers is one of the North East's most revered athletics clubs, producing athletes such as Sir Brendan Foster, Olympians Jonathan Edwards and Richard Kilty and Paralympian Stephen Miller.
Speaking on being a member of the Harriers, Blevins said: "It's been brilliant ever since I joined.
"The group I train in is brilliant with different people turning out every week.
"I love competing and events like relays when you're all there cheering each other on.
"It's so nice getting involved and supporting each other all the time. We've all got each other's back."