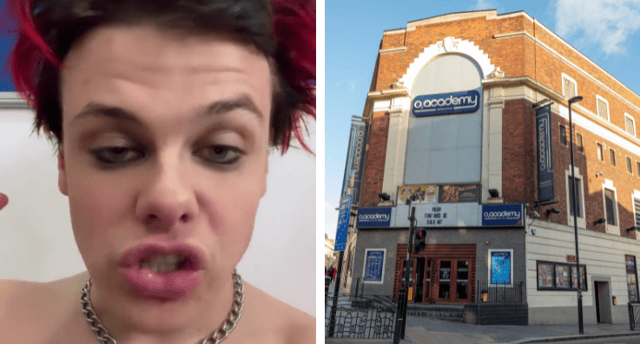 Newcastle City Council has cited their 'licensing policy' as a reason for not offering gender-neutral facilities after singer Yungblud drew attention to the issue on Tuesday night.
The 24-year-old artist played a headline show at Newcastle's O2 Academy as part of his Life on Mars tour.
Before the show, Yungblud posted an animated video on Instagram, Twitter and TikTok criticising the lack of gender-neutral facilities at the venue.
He said: "It was really important to me that there would be gender-neutral facilities on this tour because I know how hard it is for non-binary people at gigs sometimes, going to the toilet and stuff, so that's happening.
"Except for some reason Newcastle don't want to comply, get out the f***ing dark ages. What the f***."
The star captioned the video explaining that the issue was due to "Newcastle Council and not the venue".
He then uploaded a video of himself sticking a gender-neutral sign on toilet facilities in the venue and said: "If the council have a f***ing problem with it, you talk to me."
Today Newcastle City Council issued a statement to NewcastleWorld.com saying their lack of gender-neutral facilities was "to protect the safety of everyone in the night time economy".
A Council spokesperson said: "Our licensing policy states that, in venues with a capacity of 50 or above, separate facilities should be in place for male and female attendees in order to protect the safety of everyone in the night time economy.
"While this policy is in place to keep people safe, we would welcome businesses going above and beyond to provide a more inclusive offering in venues where there are the facilities to ensure provision for males and females, as well as those with other requirements."
A 2017 Stonewall report found that 48% of transgender people don't feel comfortable using public toilets, with 41% of trans people and 31% of non-binary people experiencing a hate crime in that year.
Fans were quick to reply to Yungblud on Twitter and praise the singer for his efforts.
One wrote: "Most artists wouldn't even think about this much less listen to their fans when asking for such. Thank you for being so understanding for everyone in attendance."
Another said: "This genuinely means so much considering that you're an artist trying to ensure that your fans are safe and comfortable, thank you so much [sic]."
Someone else said: "Thank you for you, thank you for being there for us, for doing all these things that mean a lot to us. You are an incredible person. I can't wait to see you in concert. I f***ing love you so much."