A supermarket boss has offered tips to cope during the fruit and vegetable shortage currently gripping the UK - and explained the reasons behind the restrictions. Richard Price, director of online supermarket Britsuperstore, said the shortages are only expected to last a few weeks but shoppers are still feeling frustrated as they are greeted by empty shelves.
Aldi is the latest supermarket to start limiting sales of certain items, joining rivals Asda, Morrisons and Tesco. Pictures of bare fruit and vegetable aisles have been shared on social media after being snapped by shocked shoppers, reminiscent of scenes during the pandemic.
Mr Price shared solutions on what to buy during the shortages and explained the reasons behind them. Here's everything you need to know about the current fruit and vegetable shortages in the UK.
Which supermarkets are currently limiting fruit and vegetable sales due to the shortages?
The following UK supermarkets are currently limiting sales of certain fruits and vegetables due to the shortages:
Other major UK supermarkets have also been hit by the shortages but have not yet introduced limits for customers.
Which fruit and vegetables are currently running low?
Caps have been introduced on the following items across supermarkets:
Tomatoes
Peppers
Cucumbers 
Lettuce 
Salad bags 
Broccoli 
Cauliflowers
Raspberries
Aldi and Tesco have said they are putting limits of three per customer on sales of tomatoes, peppers and cucumbers. Asda has capped sales of lettuce, salad bags, broccoli, cauliflowers and raspberry punnets to three per customer, along with tomatoes, peppers and cucumbers.
Morrisons has set limits of two on cucumbers, tomatoes, lettuce and peppers. Tomatoes and peppers seem to be the worst affected but it's unclear whether that's just because they are popular items.
Alternatives to buy during the fruit and vegetable shortage, according to supermarket boss
Mr Price offered advice to consumers and has explained the reasons behind the restrictions. He said: "We recommend switching to fruits and vegetables more widely available, which have not been restricted by supermarkets.
"Lettuce, for example, can be substituted for kale, cabbage or spinach, which all have similar nutritional benefits. Consider opting for tinned tomatoes, which are currently much easier to get hold of.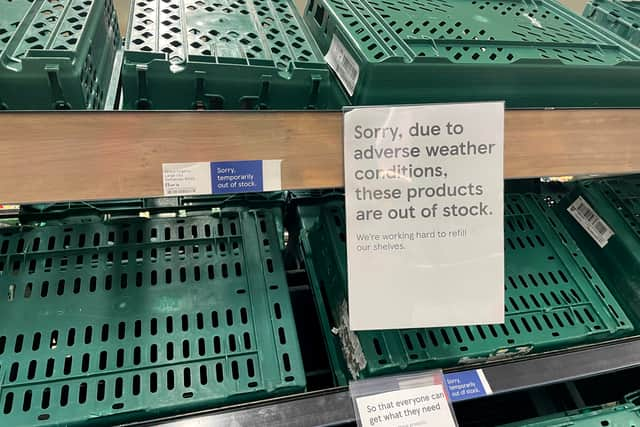 "If you're using tomatoes in cooking and are looking for a similar texture, try using root vegetables such as carrots. Tomatoes are high in vitamin C and potassium. If you're looking for similar nutritional value, try adding extra plums or peas to your diet.
"If you're struggling to find raspberries, gently simmer thin slices of rhubarb in sugar-infused water. These can be added to desserts."
If you're desperate for the real thing, Mr Price recommends heading to an independent grocers - but be prepared to pay more. He added: "Independent businesses are often more flexible with prices than chain stores, so stock is sometimes more readily available.
According to Mr Price, Co-op, Sainsbury's, Lidl, Marks and Spencer and Waitrose currently have no plans to impose limits.
What's the reason behind the current fruit and vegetable shortage?
Mr Price said there were a number of contributing factors behind the current fruit and vegetable shortage, but bad weather in Europe and Africa is largely to blame, as is the high cost of electricity in the UK and the Netherlands where some of our produce is grown.
"During winter, we import an estimated 90% of lettuces and 95% of tomatoes. Much of our imported produce comes from Spain and North Africa," he went on.
"Morocco is currently being impacted by flooding, with storms exacerbating the issue and leading to the cancellation of ferries. In Spain, meanwhile, the weather is unusually cold."
How long will the shortages last?
The current shortages are only expected to last for a few weeks, but empty shelves and restrictions on commonly used items can be frustrating for shoppers, said Mr Price.