Love Island 2023: podcast hosts Sam Thompson and Indiyah Polack share their thoughts on the new islanders and predict the first couples
Let's take a look at what Indiyah and Sam think about the new singletons - and their predicted coupling for series nine
Watch more of our videos on Shots! 
and live on Freeview channel 276
Visit Shots! now
Love Island will return to our screens on Monday, 16 January - and the first ten good looking singletons trying to find love in a South African villa have been announced.
Just five cold months after Davide Sanclimenti and Ekin-Su Culculoglu won the eighth series, ITV are delighting us with a winter instalment of the popular reality dating show.
This will be the first winter series since Paige Turley and Finn Tapp flew home from Cape Town £50,000 richer in 2020.
Indiyah Polack, who was a series seven finalist, and co-host Sam Thompson shared their first impression of the new cast on the first episode of the Love Island: The Morning After podcast on Tuesday night.
So, let's take a look at what Indiyah and Sam think about the new singletons - and their predicted coupling for series nine.
Will Young
Age: 23
Job: Farmer / Tik Tok star with 1.1 million followers
Location: Buckinghamshire
Will told The Morning After podcast listeners about a raunchy experience he once had on the farm. saying: "So I have brought a girl back, and we have been a bit cheeky out in the fields and on the hay bails - one thing leads to another and we're in the back of a tractor on the back of a trailer."
However, the farmer did express that he is going into the villa to find love and "ultimately, a wife to help me out on the farm".
Indiyah said the 23-year-old "sounds cute and wholesome and cuddly", which Sam put down as basically everything a girl doesn't want.
Olivia Hawkins
Age: 27
Job: Actress and ring girl
Location: Brighton
Olivia said her friends call her the "queen of situationships" as she explained how she is always caught up in the girlfriend experience, but "just never with a label".
The 27-year-old said: "I've met the mum, gone bowling with the family, they'll treat me like their girlfriend but just never with a label. I would describe myself as very flirty. I'm not a heartbreaker, I'm a lover."
Indiyah said this singleton stands out because the ex-islander thinks she is setting herself up to be "played".
However, Sam felt that Olivia would be "relatable to a lot of people", and hopes that the actress will bring drama to the screen.
Lana Jenkins
Age: 25
Job: Makeup artist
Location: Luton
Lana has a cowboy hat tattoo on her arm, adding that people say she got it because she "likes reverse cowgirl".
The singleton, who uses her fluent Spanish as a pulling method, said: "I try my best to play hard to get, but in the end I end up caving and sending a paragraph saying 'I love you, lets just be together'"
Indiayah said her cute laugh will "rope people in", and that she gets "no bad vibes" from the makeup artist.
The season seven finalist added: "She seems really nice, happy, bubbly, easy to get along with. I'm hoping she's a girls girl"
Although Sam controversially hopes that she is not a "girl's girl" as he wants conflict. He also added that the 25-year-old could be a "crowd favourite".
The co-hosts can't see her arguing with anyone on screen, but do hope she swears at someone in Spanish.
Tanyel Revan
Age: 26
Job: Hair Stylist
Location: North London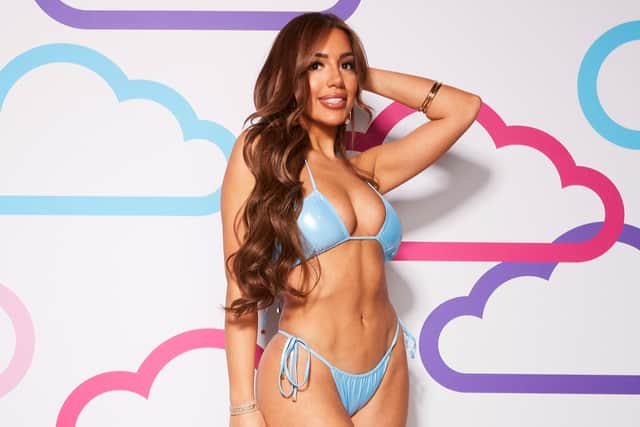 Tanyel described what guys usually like about her, which is her "bundha" and her confident and talkative personality.
The 26-year-old added: "I can't wait to get myself in the villa, I just want to stop with all the bad boys, leave them in the past and find someone who treats me right."
Sam believes Tanyel will be great "entertainment value", alongside Olivia. Whilst Indiyah believes the hair stylist "is absolutely going to shake up the villa".
Shaq Muhammad
Age: 24
Job: Airport security officer
Location: London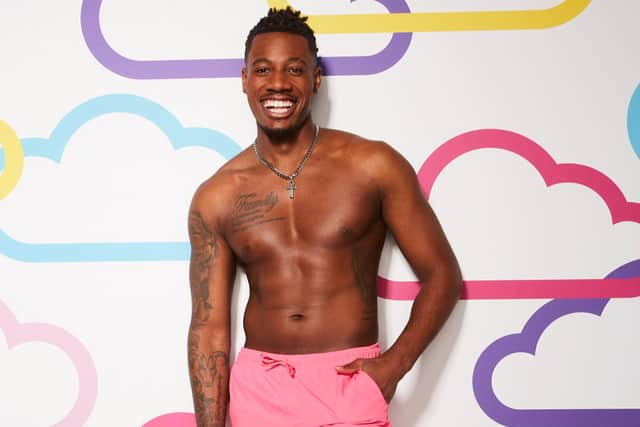 Shaq told podcast viewers: "Once I meet a girl and I feel like I can open up, I turn into a big teddy bear."
The 24-year-old wants a funny girl to match his "hilarious" personality, as well as someone with nice eyes, nice lips, and good body.
He added that he is very confident because once he gets eye contact, "its game on, its Shaq time".
Indiyah said she likes the "nice big flirt" as "he's not taking life too seriously". She thinks the airport security officer would couple up nicely with hair stylist Tanyel.
Sam, who called Shaq a "positive flirt", compared him to Toby Aromolaran from season seven - and hopes that "he's one of those guys who dates around a bit".
Kai Fagan
Age: 24
Job: Science and PE teacher
Location: Manchester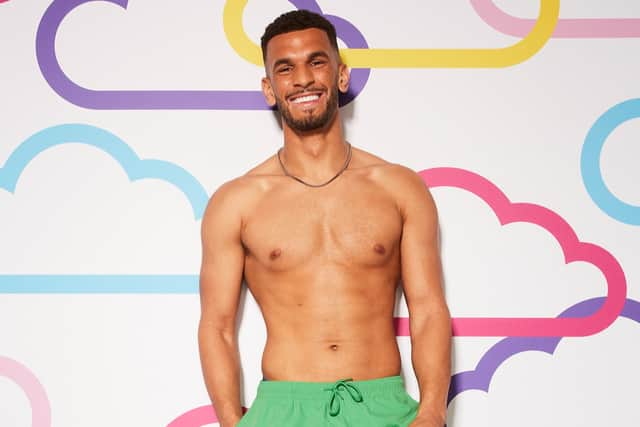 Kai told listeners about an after-work ego boost he often experiences. He said: "I've had mums arrange meetings to meet with Mr Fagan, I come down, next thing I know they've left their numbers in reception waiting to see if I'm going to call them back."
The teacher also shared his soft side, adding: "If I do like a girl on the first day, I'll probably end up falling in love with her. People probably call me a bit of a simp when it comes to things like that but it's finding that right person that I am ready to simp for."
Co-hosts Sam and Indiyah agree that being 6ft 4 really helps, with the latter expressing: "You can have about four red flags but being 6ft 4 wipes them out".
Sam "rates" that he calls himself Mr Fagan, and compared the 24-year-old to two-time Love Island contestant Adam Collard.
Ron Hall
Age: 25
Job: Financial advisor
Location: Essex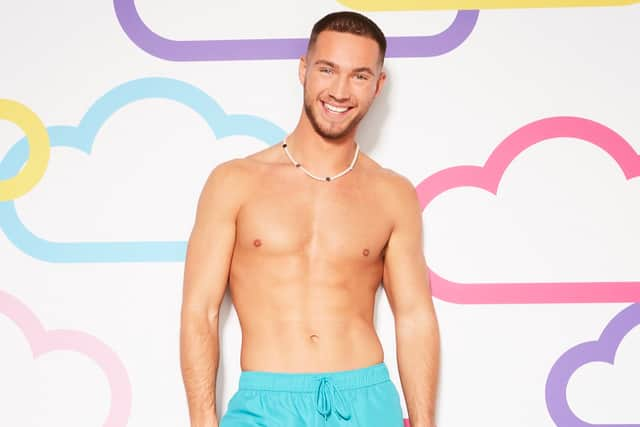 Ron claimed that he is different to a "typical Essex boy". He said: "I've got that soft spot in me, you know I put on a little hard shell but when I'm chatting to a girl, when I get to know them, that soft side comes out so quick."
However, the financial advisor also described himself as a "diamond in the rough" who has all the attributes to be a "perfect fella". Be warned ladies, he claims you will not find someone quite like him.
Indiyah thinks the 25-year-old is saying "everything people want to hear", whilst her co-host admits to absolutely loving Ron.
Sam said: "When you hear him speak, you might even be like 'that's a bit arrogant' but I don't think it comes from that. I think he's confident in all the right ways but it's not a malicious confidence."
Tanya Manhenga
Age: 22
Job: Biomedical science student
Location: Liverpool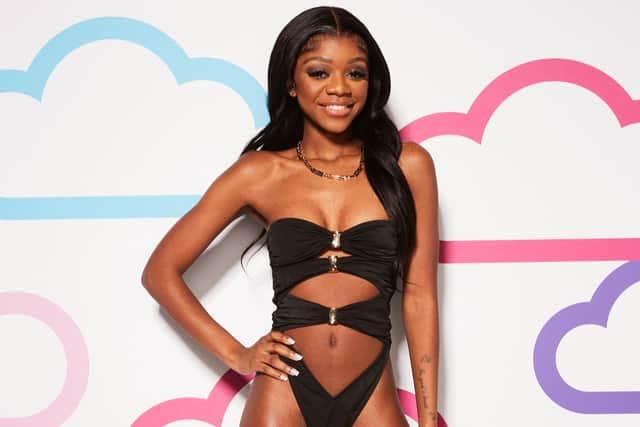 Tanya is a girl who knows what she wants. The 22-year-old said: "My type is medium handsome guys, like guys who are not unreal but they're not ugly. Like somebody else might think 'no he's not a bit of me' but I'm like that's a bit of me."
The student also added exactly what she expects from a guy, she said: "I literally expect princess treatment or no treatment at all please".
Indiyah decided that financial advisor Ron and Tanya could be a "perfect match", and Sam added: "I rate that she is just looking for a six".
Anna-May Robey
Age: 20
Job: Payroll administrator
Location: Swansea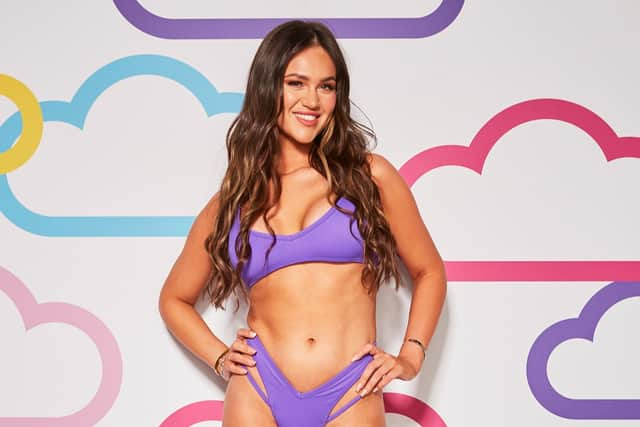 Anna-May admitted one of her red flags to podcast viewers, saying: "I tend to get obsessed with boys really quickly, like give me a day. But then when they start to like me back or give me any sort of attention, I just get bored."
The payroll administrator likes a bit of competition but added that she is a really "competitive person", especially when it comes to who she wants.
Sam said he could see teacher Kai and Anna-May being couple up at the start but that the 20-year-old is "going to move on".
Haris Namani
Age: 21
Job: Television salesman
Location: Doncaster
Haris, whose mum tells him he looks like Ronaldo, admitted he has "never actually had feelings for a girl.
He explained: "I've had situations with girls for like a few months and that, but I've never actually had feelings for a girl and thought 'aww she's gunna be the one'. It's always died down for me, I don't know why, until now I've never actually found the right girl. I've never fallen in love."
The singleton added: "I've got the chat, I've got the energy, I've got the smile. What is there not to like?"
Indiyah thinks 27-year-old Olivia and 21-year-old Haris would make a cute pair - and when Sam questioned the age gap, the former islander explained: "When you are in the villa, you really don't think about age, you just see everyone as people."
However, Sam continued to disagree with Indiyah, and paired the salesman with Tanya as "she will teach Haris how to love".