Australia offers skilled UK workers jobs to emigrate: full list of jobs including nurses and mechanics
Western Australia Government said people who were  offered jobs could live in a beautiful thriving region centred around Perth.
Watch more of our videos on Shots!
and live on Freeview channel 276
Visit Shots! now
If you've been toying with the idea of moving halfway across the world for a better  quality of life and year round sunshine, then you're in luck as Australia is now luring skilled workers Down Under, thanks to a new trade agreement with the UK.
Australian politicians are not shy to admit  they would like to "steal" our skilled workers from various sectors to fill in 31,000 job vacancies that include doctors, teachers, police officers and civil engineers.
According to The Times, the free trade deal between Australia and the UK, which comes  into effect this year, includes mutual recognition of qualifications for skilled workers. Paul Papalia, Western Australia's police and defence industry minister, will lead a delegation that arrives in the UK on February 25.
In what appears to be a smart move by visiting during winter, Papalia's delegation is said to be offering better weather, higher incomes, and cheaper living costs in the midst of strikes that have ravaged Britain, forcing schools to close and healthcare workers to undertake the largest wave of industrial action in decades.
Those enticed by the Western Australia Government proposal will live in a beautiful and thriving region centred around Perth, that receives more than twice as much sunlight as the UK and only half as much rainfall.
According to Papalia, nurses could make 58% more than in the UK and care workers could double their pay. Those who accept the offer, according to him, will be able to say goodbye to soaring prices, a failing health system, traffic congestion, and parking wardens.
He said: "We are here to steal your workers by offering them a better life in one of the most beautiful places on the planet. Western Australia is a fantastic place to live and work. You will be taken care of.
"Most of Perth's population lives a short drive from the beach, where parking is free. There are no tolls on our roads. And if you don't want to drive, public transport is also capped. Perth is a beautiful, clean and vibrant city, with food, bars, pubs and restaurants for all tastes."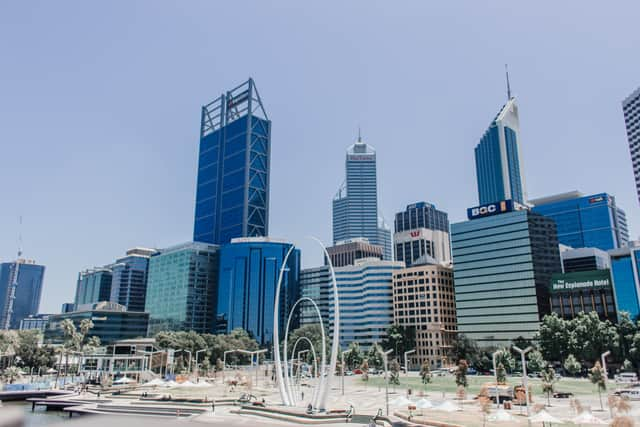 Ministers believe that after Britain's Free Trade Agreement with Australia which comes into  place later this year, will make it easier for UK workers to relocate. The agreement is likely to result in mutual recognition of qualifications for skilled workers as well as increased benefits on a "working holidaymaker" visa.
On TikTok, "Moving to Australia from the UK" has been a trending topic, with many users claiming that the 'big move' has had a profoundly good effect on their life, both psychologically and physically.
A user, @ourjourneydownunder, who emigrated from the UK in December last year, said they made the decision to move "in search of a better life" for their two children and better opportunities. She said the family "have never been happier" since relocating to Australia where they would go to the beach every day and "be in the pool all day."
She added: "Moving to Australia for us has definitely been one of the most positive life changes we have ever made. We are so happy here and I encourage anybody that is ever given the opportunity to get away from your hometown to take it and go because there's so much out there that we just weren't even aware was out here."
Australia job fairs in the UK
Papalia said the delegation arriving next week will hold skills events and jobs fairs in London, Bristol, Edinburgh, and Dublin. Details on these job fairs have not been made available.
Jobs needed to be filled in Australia
According to reports, these are some of the jobs that are being offered to British skilled workers.
Teachers
Nurses
Doctors
Engineers
Police officers
Builders
Plumbers
Miners
Mechanics