Cost of living: 9 ways to save money on school uniforms before September - including grants & how to apply
New figures show that parents are shelling out up to £422 a year on school uniform - here are nine ways to save money.
Watch more of our videos on Shots! 
and live on Freeview channel 276
Visit Shots! now
As children across the country enjoy the summer holidays, parents are no doubt already looking ahead to the next school year. It's no secret that "back to school" can be a pricey business, especially when it comes to school uniform.
The Children's Society found that parents are spending an average of £422 a year on secondary school uniforms and around £287 on primary uniforms for their little ones. Some schools even request that parents buy full uniform sets with school logos on each item, including socks - and costs can quickly add up.
With this in mind, cash-strapped parents are being offered budget-friendly tips to save money on uniform costs before the new school year begins. The frugal experts at NetVoucherCodes.co.uk have revealed nine helpful ways to pin down uniforms in time for September for less.
Rebecca Bebbington, online consumer expert at NetVoucherCodes.co.uk said: "While kids have not long broken up for the school holidays, we want to offer advice to parents who are worried about affording uniforms for their little ones. It's shocking to learn parents are spending over £400 just on secondary school uniforms alone and primary school costs are not much cheaper.
"But it's less of a surprise in the current economic climate, especially if some schools are making parents pay for branded clothing. This can make clothes such as trousers, blazers and even socks much more expensive. We have found some helpful ways parents can save money on uniforms, such as checking online community groups for second-hand uniforms as well as making the most of back-to-school deals throughout the holidays."
Nine ways to save on school uniform costs
Start the hunt for uniforms early
When schools break up for the holidays, many parents take their kid's old uniforms to charity shops or straight to the school as a hand-me-down for others. It's worth looking early to avoid disappointment by the end of the summer break.
Message online community groups
Join multiple online groups in your local area as well as national parenting groups to increase the chances of finding clothes for sale. Local groups particularly help if you're after branded uniform clothing.
Many parents start online groups specific to their local school where you can easily swap clothing such as a top or a blazer for a skirt or a pair of trousers. Start looking straight away so you have the best available options.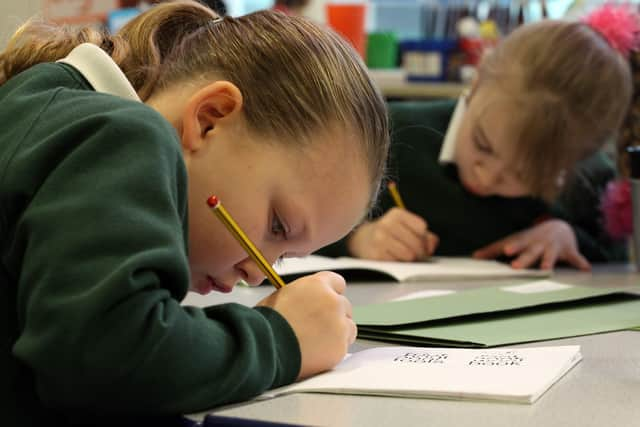 Look for back-to-school deals
The moment the holidays near an end, back-to-school deals come in full swing. Make sure to subscribe to email offers from supermarkets and outlets so you can take advantage of deals such as 10 to 20% off uniform items.
Check around selling groups for members who are selling bundles of school uniforms as part of free giveaways. Make sure to turn post notifications so you don't miss out as they will likely be given away quickly.
Every shop has different deals on uniforms when it comes to plain pieces of clothing like white shirts. Note down which has the best offers, search online to see if it's cheaper to click and collect, and then head down in person to make your final choice.
Go directly to the school
Heading straight to the schools is a great way to get free school uniforms. Lots of kits are donated at the end of the academic year and are available for collection in the first month of re-opening - but be wary that it's usually on a first come first serve basis.
Plan based on your child's age
If your child is heading into their final year at school, you may want to keep their uniform for their younger sibling to grow into it. Uniforms don't tend to change much and you could be saving yourself money down the line.
When school kits rip, a simple needle and thread can do the trick in getting them repaired. Otherwise, you'll be forking out for a new uniform when the old one fits perfectly fine but has a little hole that can be fixed at home. If your sewing skills aren't up to par, a local business offering repairs and alterations may be able to help.
How to apply a school uniform grant
Unfortunately, school uniform grants aren't compulsory in England after dozens of councils slashed funding. According toMoneySavingExpert.Com, 31 councils in England offer the support in some capacity - including nine local authorities that only provide help in extreme circumstances.
Wandsworth and City of London councils offer the highest grants of £160. The lowest being offered is £25 from Sandwell Council.
You can contact your local council to find out if they offer school uniform help. If you're not sure what your local council is, check on the Gov.uk website.
All councils in Scotland offer school uniform grants worth at least £120 if your child is in primary school, and £150 if they are in secondary school. Councils can choose to pay more than this.
The eligibility criteria varies between councils but in most cases you need to be claiming free school meals or benefits. Visit MyGov.scot for more information.
All councils in Wales offer school uniform grants worth £125, or £200 if your child is going into secondary school. The 2023/24 scheme is open now and will close on May 31, 2024.
Each council sets its own eligibility criteria and you usually need to be on a low income or claiming certain benefits. More information can be found on Gov.Wales.
Northern Ireland families can get up to £93.60 to put toward school uniform costs where a child is 15 years of age or over on August 1, 2023. Secondary school pupils under the age of 15 can claim £87.60, while the grant is worth £42.90 for primary school pupils.
The deadline to apply was July 28, but it's worth looking into next year if you need to claim. To be eligible for the school uniform grant, you need to be claiming certain benefits.