Fire services in England accused of racism, homophobia & misogyny in new damning report
The report's findings have been deemed as "very disturbing" by the government.
Watch more of our videos on Shots! 
and live on Freeview channel 276
Visit Shots! now
One-quarter of fire and rescue services in England have received reports alleging racist, homophobic, or sexist behaviour among their ranks in the last five years, inspectors have revealed in findings. Allegations of bullying were documented in every service examined, and inspectors fear this is just "the tip of the iceberg".
Male firefighters threatening a colleague and saying they would rape her as well as a senior officer using a racial slur are among the instances recounted. The findings, which the government described as "very disturbing", prompted the inspectorate of the watchdog to urge the sector to "get a grip" on how it handles misconduct cases.
The inspectorate had last year placed London and Gloucestershire's fire departments into special measures after receiving reports of racism, sexism, and bullying. The 44 fire and rescue services in England were evaluated based on their values and culture, with data collected from inspections dating back to 2018.
The investigation found 11 cases where discriminatory, homophobic, or misogynistic conduct was suspected, but it could not identify the individuals involved because the complaints had been made in confidence and some of the incidents were still ongoing.
Many compared the fire department to a "boys' club" and expressed reluctance to report improper conduct for fear of retaliation. One said they were afraid their "card would be marked" if they spoke out about offensive conduct, and another called it "career suicide."
Male firefighters were reportedly seen using the women's restrooms, but no female coworkers felt comfortable speaking up about it. Inspectors also heard stories of employees being yelled down and ridiculed by superiors after making mistakes in training.
It has been reported a senior officer threatened to "make life hell" for a firefighter who spoke out against a racist remark. The report also demanded reforms to the hiring process, highlighting the lack of a requirement for employees to undertake background checks.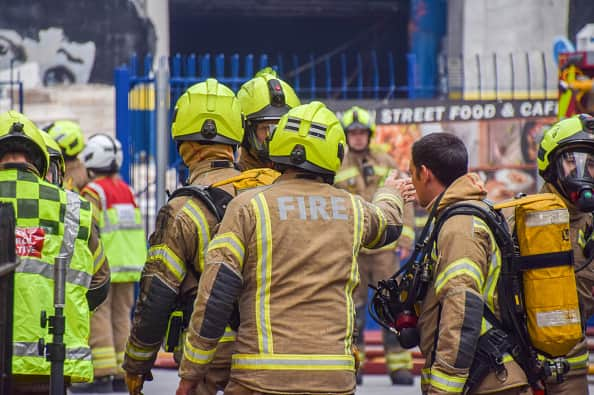 Roy Wilsher from the watchdog said: "Firefighters can be called upon to do an incredibly difficult job. They should be able to trust each other implicitly, just as the public needs to be able to trust them. Unfortunately our findings show this is not always the case. Instead, we found trust and respect is too often replaced with derogatory, bullying behaviour, often excused as banter."
The report also found the fire service to be the least ethnically diverse workforce in the public sector, adding that the sector has made the least progress in achieving diversity. Wilsher added:  "The majority of fire and rescue staff act with integrity and we are in no doubt of their dedication to the public."