First News: Cracking Christmas Records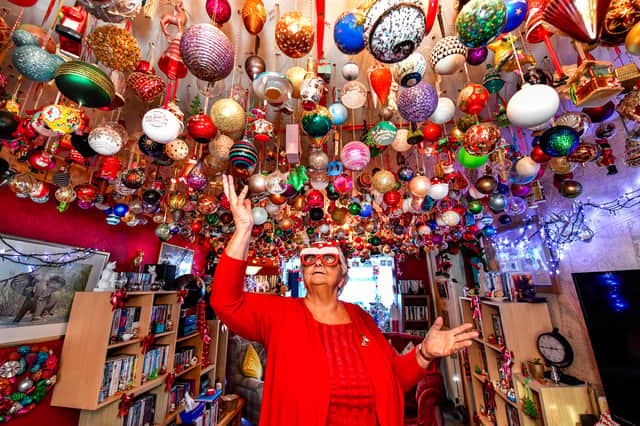 First News is a 28-page weekly newspaper for young people delivered into home across the UK every Friday. Find out more and try for free at firstnews.co.uk/1free
CRACKING CHRISTMAS RECORDS!
Who doesn't love a bonkers Christmas record to share with the family around the dinner table?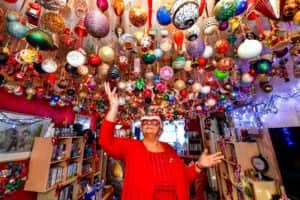 To kick things off, meet the queen of festive decorations! Sylvia Pope- or Nana Baubles, as she is affectionately known- holds the Guinness World Records title for the largest collection of Christmas Bauble ornaments. The 79-year old owns a whopping 1,760 baubles and says that after this year's shopping trip she could have more than 2000!
Nana, from Swansea, has shiny orbs from all over the world, including New York and London. They include a lobster, hamburger, a Big Ben, several Disney characters plus baubles made by her grandchildren.
Want to see more amazing Christmas records like this one? Check out or Crazy But True page in this week's Festive First News!
YOUR NEWS!
Young people! Send us your news and photos to [email protected] and have your story published on this page and perhaps, on First News too.
THEATRE TRIP
My mum and I went to watch the musical Matilda at Convent Garden in London.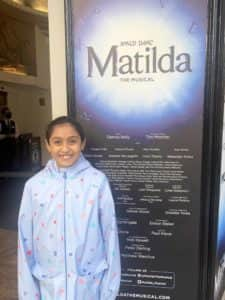 We travelled by train to reach the Cambridge Theatre. We climbed up the stairs that led us to our seats. We saw different quotes that said: "My mummy said I am a miracle" and "It's good to be naughty sometimes."
I had lots of favourite scenes in the musical but the best and the funniest ones were when Matilda plays naughty tricks on her Mum and Dad. The musical had lots of dance, music and singing, and the sound and light effects were really cool and impactful. Some of the sound effects made me a bit scared too. They also made me really think: "OMG, how do they do stuff like that?"
My favourite character was Matilda, because she is a kind-hearted and friendly girl who is always ready to help and listen to her friends and family, even though they are different to her. The show was absolutely marvellous. If you like comedy with a bit of funny horror, then this musical will be perfect for you.
DIARY DATES
CHRISTMAS DAY
25 DECEMBER
A Christian holiday celebrating the birth of Jesus Christ. People often enjoy Christmas dinner and present giving.
BOXING DAY
26 DECEMBER
A public holiday in the UK, whose name dates from the 1800s. It was traditionally a day when the rich used to put gifts in boxes to give to the poor. Now, it is one of the busiest shopping days of the year.
EDINBURGH'S HOGMANY
29 DECEMBER - 1 JANUARY
One of the world's biggest New Year celebrations takes place across four days, with the traditional torchlight procession on 30 December.
FUN FACT!
Do you know why robins regularly feature on Christmas cards? Back in Victorian Britain, when the tradition of sending Christmas cards started, postmen were nicknamed 'robins' because of their red uniforms. People used to wait for their local 'robin' to deliver their cards and so the association with Christmas began.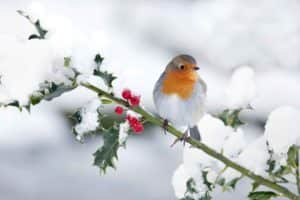 PUZZLE PAGE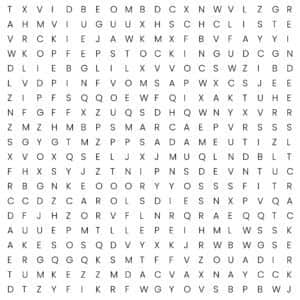 1. Santa has two reindeer whose names begin with the letter c. Cupid is one, who is the other?
2. What is the famous Christmas film starring Will Ferrell?
3. In the song Santa Claus Is Coming To Town, what is Santa checking twice?
4. Scrooge from Charles Dickens' A Christmas Carol doesn't like Christmas. What is Scrooge's first name?
5. What do you traditionally hang from a Christmas tree?
6. What is the name of the reindeer with a red nose?
7. What do people often open every day from 1 December to Christmas Day?
8. How many kings are said to have visited the baby Jesus?
9. The name of a popular festive drink from America.
Joke: Why don't aliens celebrate Christmas? Because they don't want to give away their presence!