Legendary rock band Iron Maiden are set to join other iconic names such as Queen and The Beatles to be immortalised by Royal Mail. Band members along with infamous mascot 'Eddie' will all be commemorated in stamp form.
In total there are 12 stamps, eight of which feature current band members. In 2023, the band will celebrate their 48th anniversary since their formation in 1975. Guitarists Dave Murray, Adrian Smith, Janick Gers, frontman Bruce Dickinson, drummer Nicko McBrain and bassist Steve Harris all appear in the commemorative project.
The stamps show photos of the band on tour from back in the 1980s up to their 2018 gigs. One of these was in Birmingham and features a huge animatronic model of 'Eddie'.
The band is without a doubt one of the most influential in history, having sold over 100 million albums. They are still a group renowned for excellent live performances, and in their history they have played well over 2,500 shows in no fewer than 64 countries.
Studio album number 17 was released in 2021 titled 'Senjutsu' and the band will continue to tour well into 2023- this includes several dates across the UK. This album peaked at number two in the UK charts.
Ron Smallwood, the band's manager, said: "As a band who have never played by anyone else's rules for over 40 years, it's very gratifying to see them honoured in their home country in this way.
"We're proud to show how these six band members are still appealing to more and more fans every year with their music and their legendary shows - which I think these stamps really capture well."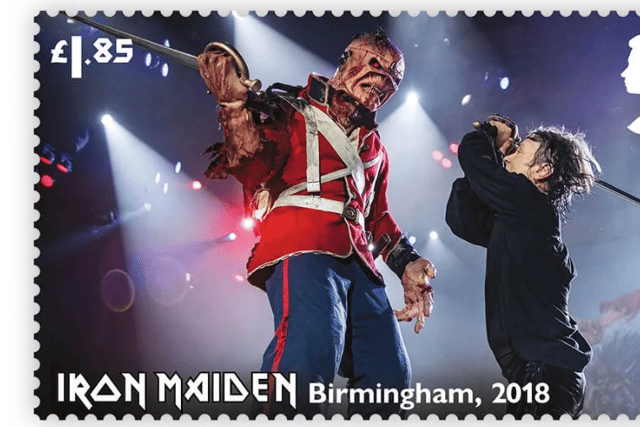 Bassist and original band member Steve Harris said: "We were all absolutely astounded - in a good way - when we heard first about the commemorative project, and equally pretty much speechless when we saw the stamps for the very first time. They look superb and I think they really capture the essence and energy of Maiden."