Nicola Bulley still missing: CCTV camera that 'would have seen everything' was the only one broken
 Nicola Bulley has been missing for well over a week in a case that has baffled and frightened the nation.
Watch more of our videos on Shots! 
and live on Freeview channel 276
Visit Shots! now
A CCTV camera close to where Nicola Bulley disappeared 'would have seen everything' had it not been the only broken one in the area, a friend of the missing mum-of-two has said. The 45-year-old has now been missing for 10 days after vanishing while walking her dog next to the River Wyre in the quiet village of St Michael's, Lancashire on January 27.
Nicola's phone, which was still connected to a Microsoft Teams work conference call, was found on a bench next to the river along with her dog running loose in an "agitated" state nearby. Despite an intensive search by police, firefighters, underwater diving teams and members of the local community, no trace of her has yet been found.
Lancashire Police believe that Nicola, a mortgage advisor from Inskip, fell into the river and that there is no evidence to suggest anything suspicious or third-party involvement - though officers are "keeping an open mind". In an attempt to dispel any misinformation, a friend of Nicola's named Tilly Ann outlined 11 pieces of information she felt  the public should know.
Ms Ann shared the information in a Facebook post, which she said had been approved by Nicola's family. In the post, she claimed there was a CCTV at the back of the caravan park close to where Nicola disappeared, adding that it was "the only camera that isn't working is the one that would have seen everything."
Lancashire Police told reporters that they could not comment on "specific" parts of the enquiry but that CCTV and dash cam footage had been "something the investigating team had been focusing on".
"Several exits of the riverside area have CCTV covering them or exits are locked and therefore couldn't have been passed through by Nicola," officers told the Lancashire Evening Post.  "There's only a very small area onto Garstang Lane toward the A586 which is not covered by CCTV and that's why we're appealing today for dashcam footage or for people who may have been walking on Garstang Lane or driving in the area to come forward if they can.'
Another close friend of Nicola also released new images from her doorbell camera on Sunday (February 6) which show her leaving her home on the morning she went missing. Officers think Nicola went missing in just a 10 minute window, and may have fallen into the river "while retrieving a tennis ball for her dog".
Louise Cunningham, Nicola's sister, urged the public to "keep an open mind" over the weekend, as there was "no evidence whatsoever" to suggest her sibling had fallen into the river and that it was "just a theory". Friend Emma White also rejected the idea Nicola would have been carrying a tennis ball, as she and partner Paul Ansell would "rarely" take one out on walks.
Lancashire Police said on Sunday (February 5) that a "key witness", a woman pushing a pram along Garstang Road on January 27, had "come forward very quickly" after announcing they were trying to trace her. Officers said: "We must stress that she was very much being treated as a witness and was one of many people in St Michael's on Friday, January 27.
"Our enquiries to find Nicola are extensive and will include speaking to as many members of the public as possible."
11 key points in Nicola Bulley disappearance shared by friends
Nicola and her partner Paul both mostly work from home which is why he was at home that day and the house has CCTV
They both do this walk regularly and Paul is very well known in the community and very well recognised
Their dog, Willow, never has her harness on for a chunk of that walk - it's removed at the gate of the top field and then put back on at the gate when they leave.
The couple very rarely take the ball out for walks with Willow and haven't done for a while because she is protective over the ball
 Nicola would often put her phone on loudspeaker when talking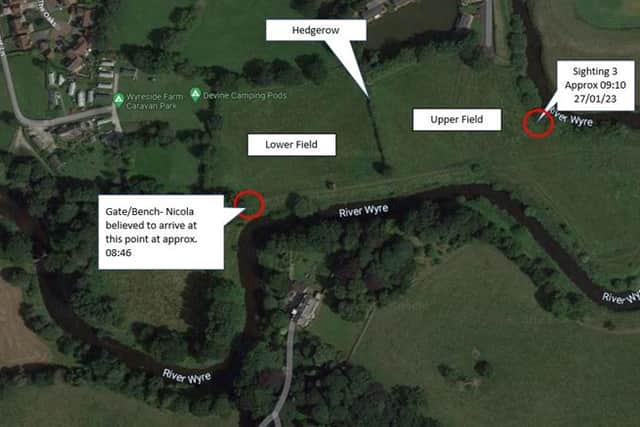 The dog was found very close to both the bench and the harness. The harness was found on the floor not on the bench
Nicola is an incredibly strong swimmer
She drove to the school to drop her two daughters off and then left her car there and walked to the river
The dog was dry when found
The dog has since been back
There's CCTV at the back of the caravan park. The only camera that isn't working is the one that would have seen everything