RSPCA urges government to ban imports of 'glamorous' cropped ear dogs
The RSPCA is urging the government to keep its promise to ban imports into the UK of dogs with cropped ears
Watch more of our videos on Shots!
and live on Freeview channel 276
Visit Shots! now
The RSPCA is urging the government to keep its promise to ban imports into the UK of dogs with cropped ears after a new poll shows 'most people agree'. The call for a change comes as the RSPCA launched its 'Mutilated for Money' campaign, highlighting the cruelty dogs go through during the barbaric ear-cropping procedure.
Although ear-cropping on dogs is an illegal practice in the UK, the RSPCA says it still happens. Additionally, it isn't illegal to import a dog with cropped ears into the country at present - making it harder to prove illegal cropping at home and leaving a loophole for owners to source dogs with cropped ears from abroad.
Dr Sam Gaines, head of the RSPCA's companion animals team, said: "Ear cropping is a painful and unnecessary practice in which a dogs' ears are removed or surgically altered. It does not benefit the dog in any way and can actually be detrimental to their health, behaviour and welfare, but sadly many owners think the look is glamorous or makes their pet look tough.
"While we do have concerns that ear cropping is being carried out illegally, and underground, in this country, some dogs with cropped ears are being sent abroad to have the procedure done or are being imported deliberately from countries with less stringent animal welfare laws and regulations than here."
The UK Government pledged to ban the import of dogs with cropped ears as part of its Kept Animal Bill - but the RSPCA says there has been 'little movement' on the bill since November 2021. Now the RSPCA has joined forces with Welsh charity Hope Rescue on the campaign which is aimed at reminding the public about the laws on cropped dogs and the welfare issues the procedure can cause pets.
As part of the campaign, the RSPCA and Hope Rescue are urging people to write to their MP and ask for urgent change by cracking down on imports of dogs with cropped ears. And last year, the RSPCA's emergency line received more than one report every single day about ear cropped dogs - with 391 incidents reported. From 2020 to 2022, 1,066 reports have been logged by the charity. So far in 2023, the RSPCA has received 124 reports about ear cropping.
"Dogs should never be mutilated for cosmetic purposes and, while this practice has been illegal in this country for a long, long time, we'd like to see more regulation to ensure that it's no longer possible to get a cropped dog in England and Wales, unless rescuing through a reputable organisation," Dr Gaines added.
Why do people crop their dogs' ears?
The RSPCA say celebrity culture is partly to blame with images shared on social media - especially from abroad where the practice is unregulated and legal - and an increase in bull breeds seen in advertising. This all leads to the look being normalised and the practice made more popular.
People in the public eye are endorsing this procedure by sharing pictures of their cropped dogs and, even if unknowingly, normalising and glamorising the look.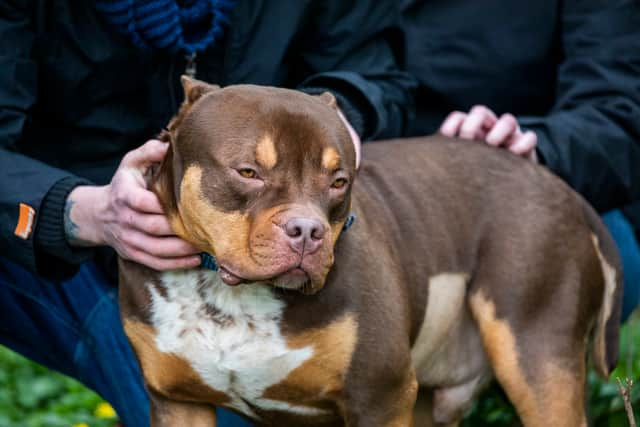 How to report suspected ear cropping in dogs
If you suspect someone is illegally cropping dogs' ears or arranging for their dogs to have their ears cropped, the RSPCA urges people to report their concerns to their hotline, calling 0300 1234 999.