Splitting the bill and leaning in for a kiss are some of the most common first date fears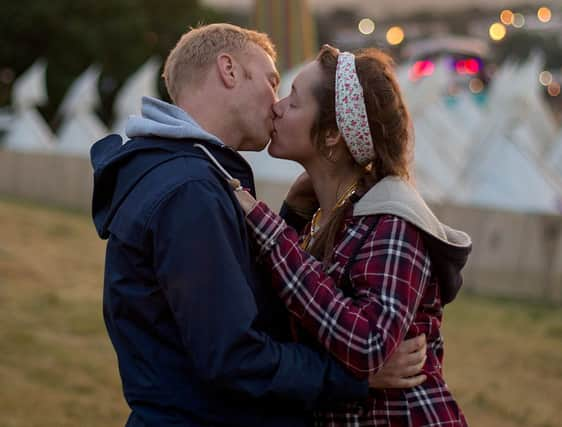 Adults' first date fears include not having anything to talk about, knowing when to lean in for a kiss – and whether they should suggest splitting the bill.
A poll of 2,000 adults found 70 per cent are nervous about how to greet their potential love interest on their first meeting, with 34 per cent deliberating whether to go for a hug, kiss on the cheek or even a formal handshake.Nearly nine in 10 (89 per cent) admitted to getting the jitters before a first date, and 39 per cent have an alcoholic drink beforehand to help calm their nerves.But for some, the first date fears came true as 34 per cent didn't have anything to talk about, 20 per cent had to sit through a boring date and 14 per cent were stood up.Other failures saw them getting offended by something their date said (11 per cent), forgetting their date's name (10 per cent) and spilling sauce down a top or shirt (8 per cent).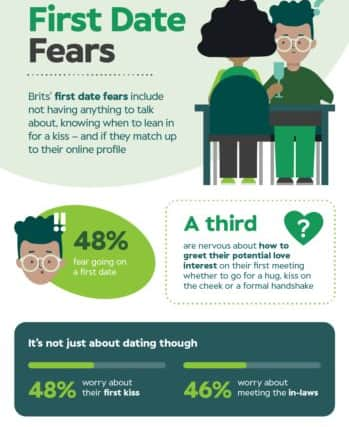 It also emerged that while 48 per cent feared going on a first date,  46 per cent also worried about meeting the in-laws and 48 per cent were nervous about their first kiss.For some, there are added worries for this moment, with 20 per cent of glasses wearers experiencing 'kiss-clash' - where two pairs of glasses collide while going in for a kiss.And 38 per cent of glasses wearers find them annoying when kissing.The main reasons for this include having them clashing with the other person's glasses (46 per cent), they fog up (36 per cent) and their hair gets caught in them (24 per cent).Others said their glasses get in the way when they are exercising (26 per cent), doing make up (22 per cent) and cooking (20 per cent).
A free contact lens trial to help couples avoid kiss-clash
The research was carried out by Specsavers, which is offering a one month free contact lens trial to help people avoid kiss-clash.It also found that of those with a sight prescription, 80 per cent are more scared about trying contact lenses for the first time than they are having a first kiss.And 17 per cent of glasses wearers are scared of trying contact lenses for the first time.Nearly six in 10 (57 per cent) of those are worried they will get stuck in their eye, while 51 per cent fear it will hurt, and 50 per cent think they will poke themselves in the eye.But 41 per cent are also worried about losing their contact lenses in their eyes, according to the study carried out via OnePoll.Alexandra Green, head of contact lenses for Specsavers, said: "It's interesting to hear so many people are more scared about trying contact lenses for the first time than they are about having their first kiss – and we don't want this to be the case."We love glasses, but we know that sometimes they can get in the way, kissing being a prime example."That's why we're offering a free month's contact lenses trial, so everyone can have a kiss-clash free Valentine's Day."
Top first date fears
1.    Not having anything to talk about2.    Loads of awkward silences3.    They might be boring4.    You might be stood up5.    That they won't get your sense of humour6.    That they won't match their online profile7.    Whether you should suggest splitting the bill8.    That you won't get their sense of humour9.    Getting food down yourself10.   Whether you should lean in for a kiss