A real Star Wars lightsaber was unveiled by Disney parks chief Josh D'Amaro who explained how it'll be used as part of a Disney Parks experience. Holding the lightsaber's hilt, D'Amaro simply pressed a button on the side of the handle and out came a bright blue beam, just like in the iconic George Lucas films.
He said the lightsaber will be used as part of Disney's Galactic Starcruiser experience and explained how the Disney parks want to honour storytelling. Disney's Galactic Starcruiser experience is an 'immersive hotel experience' which launched at Disney World Florida last year.
Mr D'Amaro said: "I have the coolest job in the world, I'm holding a real lightsaber. I love firing this thing up."
Guests of the hotel experience kick off their journey by heading to the Galactic Starcruiser terminal. From there, they board a launch pod and travel through hyperspace, eventually reaching the Halcyon ship.
Ater docking, they head to the main deck atrium where guests are greeted and escorted to their cabins. Once they've dumped their bags, guests can explore the ship or grab a drink at the Sublight Lounge.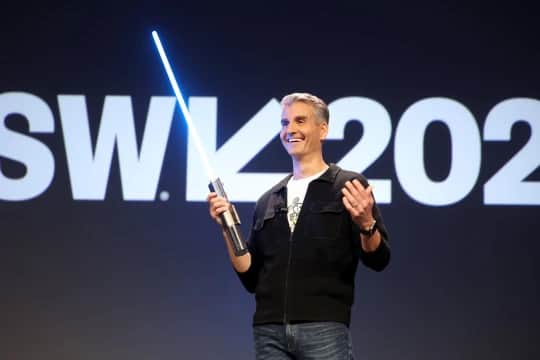 The hotel includes a number of activities such as lightsaber training and musical performances. There is also bridge training and interactions with favourite Star Wars characters.
Matt Martin, from Lucasfilm's content and strategy department, previously said of the Galactic Starcruiser: "The events of your stay at Star Wars: Galactic Starcruiser are set between the events of Star Wars: The Last Jedi and Star Wars: The Rise of Skywalker. As a passenger, you get to choose your own path and the parts of Star Wars that really call to you, that are special to you, you get to go live those."