The Masked Singer Live: Popular singing show is coming to Butlin's resorts, when is it, how to get tickets
Here's everything you need to know about The Masked Singer Live as it is coming to Butlin's resorts during school breaks this year.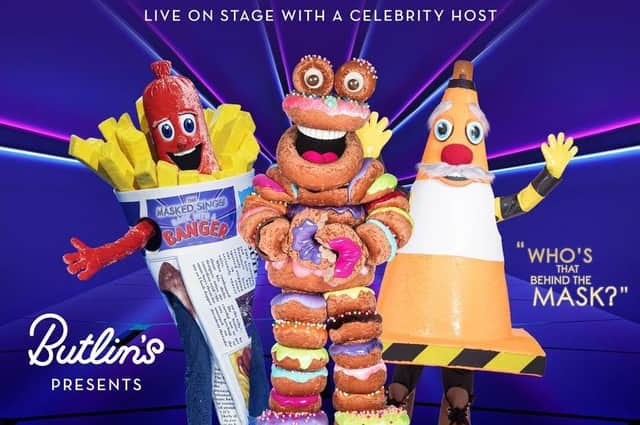 The wait is almost over for the fans of The Masked Singer Live as it is set to hit the stage at Butlin's resorts this year. Instead of facing a panel of professional judges, this time around, the performers will be judged by the harshest critics of all - the audience.
Performing on selected school holiday breaks, audiences now have the opportunity to chant "Take it off! Take it off!" after watching the elaborate costumes perform popular hits live on stage at Skegness, Bognor Regis, and Minehead.
Each show will be hosted by a celebrity presenter and will feature four favourites from past series, as well as two brand new characters. Similar to the ITV programme, the highlight of the show will be unveiled until the end of the performance when all characters, including two celebrity performers in every show, are unmasked.
Mike Godolphin, Entertainment Director at Butlin's, said: "As the home of entertainment we've pulled out all the stops to bring our guests another year of incredible show stopping performances. We can't wait to have The Masked Singer performing live. I know we'll be hearing 'Who's that behind the mask!?' throughout the resort."
He added: "We're also welcoming back incredible acts next year and will be opening our brand-new SKYPARK in Skegness. With some fantastic value breaks to be had, it's never too early to book some full-on family fun!"
Here's everything you need to know about The Masked Singer Live and how to get tickets to the highly anticipated shows during the school breaks.
When is The Masked Singer Live at the Butlin's?
The Masked Singer Live will be coming to Butlin's resorts on selected dates during Easter breaks, May Half Term, School Summer Holidays and October Half Term breaks. The dates can be found on their website.
The Masked Singer Live tickets
You can book your tickets via the Butlin's app which is available on Apple App Store and Android Play Store. Each resort has its own app; therefore, be sure to purchase tickets for the resort you wish to visit.