UK floods: Areas swallowed by water as rivers burst banks - full list of flood warnings
Flooding is causing chaos for people across the UK, with more than 100 flood warnings issued- but more rain is on the way for some areas, say the Met Office.
Watch more of our videos on Shots!
and live on Freeview channel 276
Visit Shots! now
Roads and pathways across the UK have been swallowed by water after flooding caused by heavy rain left rivers bursting their banks. The Environment Agency has issued over 100 flood warnings, mainly in west and south-west England, as well as more than 180 flood alerts.
Shropshire, Gloucestershire and Bristol have been hit particularly badly by flooding, with Shrewsbury to Ironbridge seeing Britain's longest river becoming engorged by the heavy rain. Some roads and car parks have been left submerged, while footbridges are also blocked.
Temporary barriers were put in place at Ironbridge in a bid to hold back the bulging Severn. There have also been reports of drivers in Keynsham near Bristol being rescued from their cars and many roads in the area remain closed.
Footage of Shrewsbury on Saturday (January 14) showed roads and pathways completely submerged by water and sign posts immersed in the river. Several roads have been closed in the town and temporary flood barriers remain in place at Frankwell in Shrewsbury and Ironbridge as heavy rain continues to fall.
Other parts of England are expected to be affected later on in the weekend. Some flood alerts, meaning that flooding is possible, are in place further north, including in Keswick in the Lake District and areas of Yorkshire.
Yellow weather warnings for rain, snow and ice have also been issued across parts of northern England, Northern Ireland and Scotland as the UK braces for another cold front.
UK weather forecast
Saturday (January 14) will be windy with scattered blustery showers falling as snow over hills and rain or hail at lower levels, the Met Office said. There will be more persistent, heavy rain and hill snow for southern Scotland for a time, where it will be very windy. Turning icy in the north.
Sunday (January 15) will see sunny spells and scattered showers, falling as snow in the north, although there will be a "good deal" of dry weather for central and eastern parts. There is a risk of rain and hill snow far south overnight.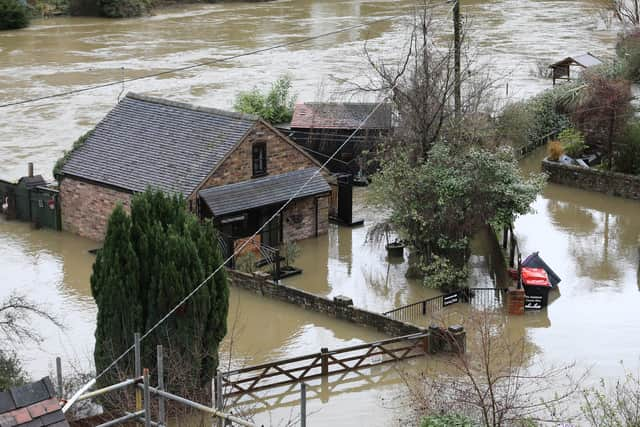 From Monday through to Wednesday next week, rain and hill snow will clear the southeast, with sunny spells elsewhere and snow showers in the north. Snow showers in the north and southwest are expected on Tuesday and Wednesday, but it will likely be sunny elsewhere.
Full list of flood warnings
Bristol Avon at Bath, riverside properties
Bristol Avon (lower) from Twerton to Bristol
Bristol Avon (middle) at Bradford on Avon
Bristol Avon (middle) from Melksham to Bathford, not including Bradford on Avon
Bristol Avon (upper) from Chippenham to Melksham
Bristol Avon (upper) from Malmesbury to Chippenham
Curry Moor and Hay Moor
Doniford Stream in the Sampford Mill Farm area
Fittleworth on the Western Rother
Groundwater flooding for the Bere Stream
Groundwater flooding for the Crane
Groundwater flooding for the Devils Brook
Groundwater flooding for the Ebble Valley
Groundwater flooding for the Hooke
Groundwater flooding for the Iwerne
Groundwater flooding for the North Winterborne, north of the A354
Groundwater flooding for the North Winterborne, south of the A354
Groundwater flooding for the Piddle Valley
Groundwater flooding for the South Winterbourne Valley
Groundwater flooding for the Sydling
Groundwater flooding for the Tarrant Valley
Groundwater flooding in the Allen Vale at Sixpenny Handley
Groundwater flooding in the Cerne Valley
Groundwater flooding in the Chitterne Valley
Groundwater flooding in the Cranborne Chase in West Hampshire - Damerham and Martin
Groundwater flooding in the Cranborne Chase in West Hampshire - Rockbourne
Groundwater flooding in the Lower Allen Vale
Groundwater flooding in the South Wiltshire Downs - The Chilmark
Groundwater flooding in the South Wiltshire Downs - The Dene
Groundwater flooding in the South Wiltshire Downs - The Teffont
Hellingly and Horsebridge
Keswick Campsite
Landford to Wade Bridge on the River Blackwater
Lower Stour at Redhill and Wheatplot Home Sites
Lower Stour from Sturminster Marshall to Christchurch
Middle Avon from Salisbury to Ringwood
North Sea at Scarborough - Sandside
River Aller
River Avon at Strensham and Bredon
River Avon from Didworthy to Aveton Gifford
River Brue and Glastonbury Millstream from Lovington to Highbridge, low lying properties
River Chew from Stanton Drew to the Bristol Avon at Keynsham
River Churn at Cerney Wick
River Churn at South Cerney
River Dart from Buckfastleigh to Totnes, including Staverton
River Dene at Walton
River Exe at Winsford and Bridgetown
River Exe from Exebridge to Tiverton
River Exe from Tiverton to Exeter, including Bickleigh
River Frome at Brimscombe and Thrupp
River Harbourne at Crowdy Mill, Beenleigh, Bow and Tuckenhay
River Lugg at Kenwater
River Ouse at Acaster Malbis
River Ouse at Naburn Lock
River Ouse at York - riverside properties
River Ouse at York - Skeldergate and Tower Street
River Ouse at York - St George's Field and Queen's Staith
River Severn at Abbots Court, Deerhurst
River Severn at Apperley and The Leigh
River Severn at Bewdley, Blackstone and Stourport
River Severn at Bridgnorth
River Severn at Chaceley and Haw Bridge
River Severn at Clifton and Severn Stoke
River Severn at Coleham Head, Shrewsbury
River Severn at Court Meadow, Kempsey and Callow End
River Severn at East Waterside, Upton upon Severn
River Severn at Fort Pendlestone and Severn Hall
River Severn at Frankwell, Shrewsbury
River Severn at Hampton Loade and Highley
River Severn at Hanley Castle, Rectory Road in Upton upon Severn and Saxons Lode
River Severn at Hanley Road, Upton upon Severn
River Severn at Hawford Wood and Bevere
River Severn at Ironbridge and Jackfield
River Severn at Larford, Riverlands and Holt Fleet
River Severn at New Street and Backfields Lane, Upton upon Severn
River Severn at Northwood, Bewdley
River Severn at Pitchcroft, North Worcester
River Severn at Quatford
River Severn at Severn Ham, Tewkesbury
River Severn at Severnside, Bewdley
River Severn at Shrawardine, Montford Bridge and Mytton
River Severn at Shrewsbury
River Severn at the Showground and The Quarry, Shrewsbury
River Severn at the Wharfage, Ironbridge
River Severn at Upper Arley
River Severn at Waterside, Upton upon Severn
River Severn at Wribbenhall, Bewdley
River Severn in North Worcester
River Severn in South Worcester
River Severn Sandy Lane and Severnside, Stourport
River Taw (Middle) from Taw Bridge to Newnham Bridge
River Teign (Lower) from Chudleigh to Kingsteignton
River Tone from Bathpool to Ham including Ruishton and Creech St Michael, riverside properties
River Torridge (Lower) from Dolton to Bideford, including Taddiport and Weare Giffard
River Ure at Roecliffe Caravan Park
River Vyrnwy at Maesbrook
River Vyrnwy at Melverley
River Wye at Blackmarstone, Hereford
River Wye at Lydbrook
River Wye at Rotherwas, Hereford
River Wye from Hay to Hereford
River Wye from Hereford to Ross-On-Wye
River Wye in North Hereford
River Wye in South Hereford
Sherston Avon at Malmesbury
Upper Frome at Maiden Newton
Washford River, riverside properties from Kingsbridge to Lower Roadwater
Westhampnett on the River Lavant
Winford Brook at Chew Magna