Best battery-run grass trimmers 2023: keep your garden tidy with an environmentally friendly electric trimmer
Petrol grass trimmers are bad for the environment, electric come with cables: we look at the leading brands of battery grass cutters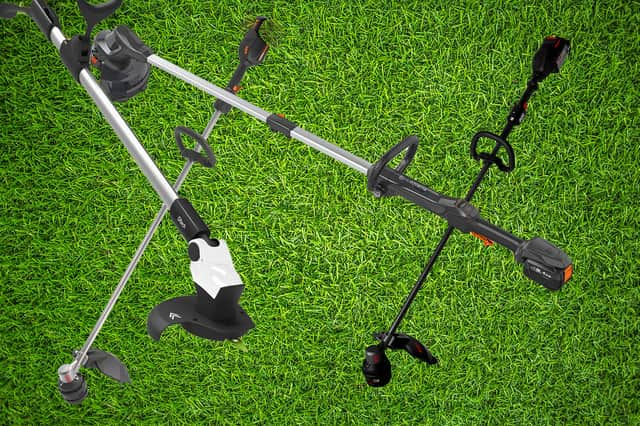 This article contains affiliate links. We may earn a small commission on items purchased through this article, but that does not affect our editorial judgement.
Unrestricted by cumbersome cables and free from filthy petrol emissions, battery powered trimmers provide the gardener with an easy means through which to tame long grassy areas and gnarly bramble thickets. Modern Li-Ion batteries and advancements in engine tech means that some of the top spec trimmers can generate slicing power comparable with petrol-driven machines but without the negative environmental impact caused by a belching exhaust.
Battery longevity still remains an issue with many of the lower cost machines offering around 20 minutes or so of cutting time. Fine if you've only got a small area to deal with, but if you are planning a titanic trimming session, you may wish to consider investing in extra batteries to have on charge whilst you work.
Things to look for in a battery grass trimmer
Cutting head
Check the size of the cutting head and choose appropriately for your needs. A large cutting head means you can trim a larger area quickly, but the flipside is extra weight and a reduction in maneuverability when trimming in confined areas such as narrow pathways between flowery borders.
Some of the more expensive trimmers incorporate bump-feed line mechanisms. During use the trimmer wire will wear down, so by bashing the base of the cutting head on the ground the mechanism will feed out more line to facilitate uninterrupted work.
Ergonomics
Most trimmers are easily adjustable to suit the height and posture of the user so in theory you should be able to buy blind without trying them out first. That said, it's always best to take one for a spin in a showroom or garden centre first, just to make sure it suits your stance.
Batteries
Power tool batteries are expensive, but if you already own cordless power tools you may be able to swap and share. Many power tool brands are now utilizing the 'powershare' model, meaning you can swap similar batteries from tool to tool and from manufacturer to manufacturer. For companies who use their own bespoke battery range, It might make sense to stay loyal to the brand (or brands) you own.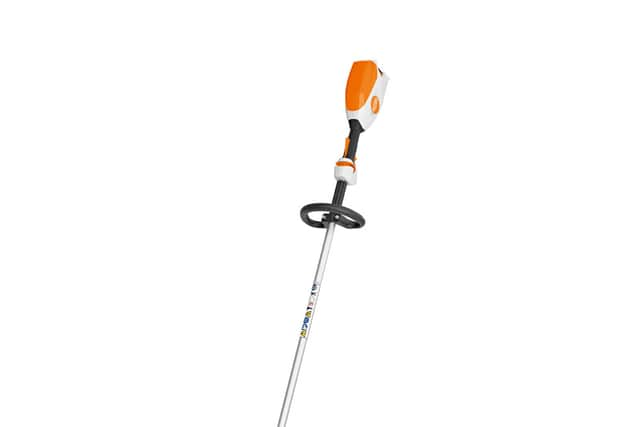 Price: Base unit £259. AL301 quick charger £71.49. AP 200 Battery £139
The FSA 86 is Stihl's mid-range cordless trimmer and is designed to take on large garden jobs where long grass and scrub requires beating into shape. It's a well balanced, ergonomic tool to use, featuring a soft grip handle, intuitive locking trigger and safety switch and runs incredibly quietly with very little vibration.
As you would expect from Stihl, battery performance is top drawer, with a fully charged AP 200 battery giving you around 35 minutes of strimming time using a nylon line mowing head. It's also worth noting that the FSA 86 R can also be fitted with a variety of cutting tools, and swapping to a Stihl 6-2 polycut mowing head will increase the runtime to around 60 minutes.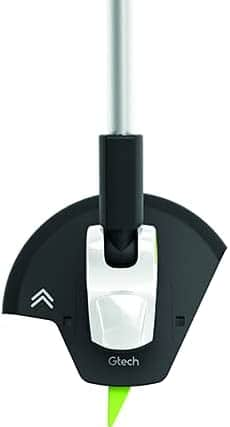 Price: £149.99 including battery.Available from: Gtech.co.uk
This smart, dyson-esque trimmer from Gtech is a great grab-and-go trimmer for neatening up a lawn or grassy verge. It is powered by an 18V Li-ion battery that slots into the base of the trimmers handle and grants approx 30 minutes cutting time from a four hour charge. Including battery, the unit weighs in at 1.85 kg which makes it the lightest trimmer on test, and whilst it might not have the largest cutting head, it does mean you can easily access areas that larger trimmers may struggle to reach.
Further flexibility is offered by rotating the cutting head into an upright position to enable edge trimming for neat lines around your borders. This trimmer uses plastic cutting blades which have a tendency to wear down quite quickly – especially if your trimmer comes into contact with stones or raised paving – but they are easy to replace and you can buy them in bulk relatively cheaply from the Gtec online shop.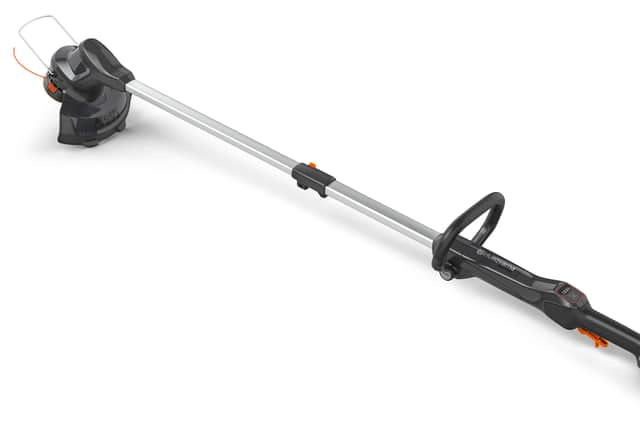 Price: Base unit £133.99 or £185.99 – £209 with battery and charger
This square tubed trimmer hails from Husqvarnas new Aspire range which includes a pruner, hedge trimmer, blower, robotic mower and walk behind mower. Each unit (apart from the robotic mower) is powered by an interchangeable 18v Power For All Alliance battery which will fit a variety of other tool brands including Bosch, Flymo and Gardena.
In action this trimmer offered a nimble breezy cutting experience thanks to its well balanced 28cm cutting head and lightweight design. A neat feature is the auto feed line function that gauges the ideal trimmer wire length and adjusts accordingly when you press the trigger. For extra safety, this machine will switch off after three minutes of inactivity and sports a handy hook for easy shed storage when your job is done.
Price: £119.99 including 1 x 2.0Ah Li-Ion Battery
Bosch's 18V grass-bothering beast is designed for comfort and features a v-shaped frame which is designed to alleviate back strains by keeping your posture straight whilst you work. Its telescopic handles are fully adjustable to suit the user, whilst a foot pedal at the base of the cutting head adjusts the angle of cut to enable upright cutting and edging work.
It's a lovely, balanced machine to use, aided by the IntelliFEED function which automatically feeds out spool line when the machine senses you are running short and need more zip. This trimmer is powered by a Power For All 18v battery which is interchangeable with Bosch's vast range of DIY power tools, along with tools made by other brands.
A fully charged battery will afford you about 30 minutes worth of frantic trimming, with a battery recharge time of approximately 125 minutes.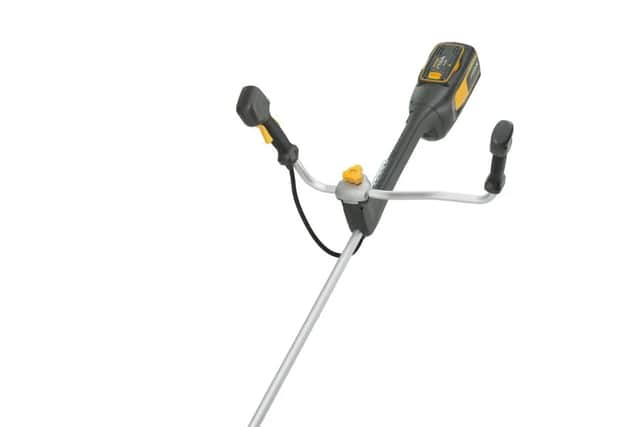 Price: Base unit £291, STIGA ePowerE 440 (4Ah) £179, EC 415 SU Battery charger £49
STIGA's foray into the world of lawn manicuring robot mowers may have been the talk of the terrace in 2023, but folk wishing to tackle unruly undergrowth will want to dig into their range of battery powered brush cutters for something with a bit more poke.
The BC 700e B has it in spades, powered by a punchy ePower440 48V 4Ah battery and advanced 500W brushless motor that affords up to 60 minutes of continuous cutting. Its 'bike handle' styling makes this trimmer incredibly comfortable to use, with a harness and five adjustment positions to choose from to help you shoulder its rather modest 5.5kg weight.
This trimmer comes with a 2 mm dual load line as standard, but it can be fitted with a three tooth cutting blade for easy slicing through thicker vegetation.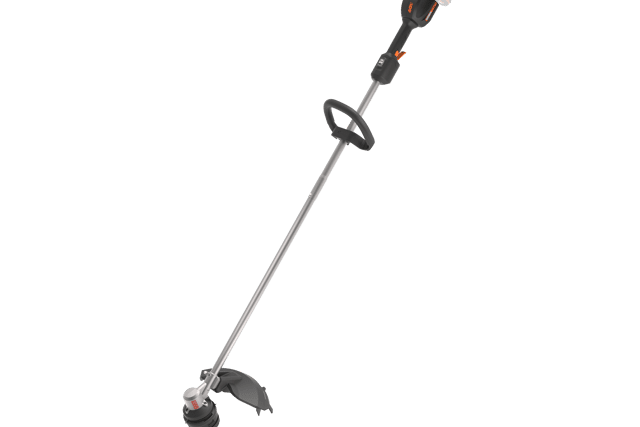 Price: Base unit £149.99, 20V 2.0 Ah battery £49.99, 20V dual port fast battery charger, £64.99
The Nitro 40v is a capable cordless trimmer which is part of the Worx Powershare system which utilizes the Powershare 18v batteries that can be shared across multiple tools in the Worx range. This trimmer wields two, which are mounted at the base of the unit and power its punchy 40v brushless motor.
Operation is simple with a safety button situated aside the grippy trigger handle. An 'eco mode' button can be found on top of the trigger housing which can be deployed for longer jobs where you need less power but longer battery life. This trimmer packs a brush-busting 2.4mm line, with a bump mechanism enabling speedy line feed to ensure optimal cutting potential.
Out in the field, we found it to be a well-designed, capable machine which comfortably dealt with the overgrown allotment we tasked it upon. Extra kudos too for the high sheen cutting head cover which made the after-cutting cleanup process a little less onerous.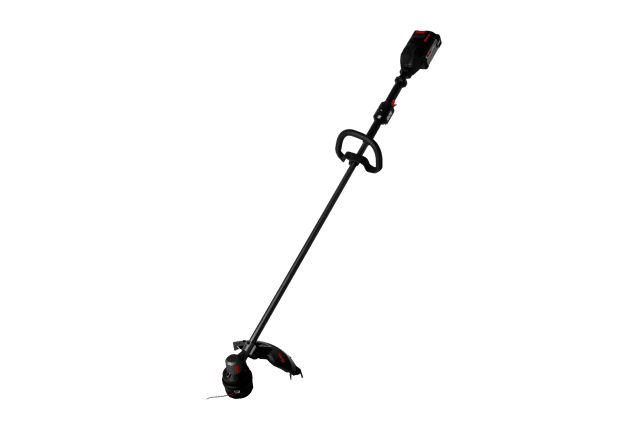 Price: Base unit £203, 60v 2.0AH Li-ion battery £142.80 or 60v 4.0AH Li-ion battery £238 , KA3714 60v 5A Rapid Charger £105.00
The Kress KG160E comes with a promise of petrol-like power and performance, and they are not far wrong. Featuring a 38cm cutting head and torque-tastic brushless motor, this impressive trimmer flies through grassy pastures at a rate of knots.
The swift loading head and bump feed line dispenser make it easy for line changes on the fly, whilst the thumb operated 'eco' switch is handy for longer strimming jobs when you need more juice.
Runtime can be little short when using one of Kress's 2.0ah batteries, but upgrading to one of their huge, brick sized 4.0ah units will give you between 25 and 45 mins of trimming time and between 30 to 70 minutes in 'eco mode'.