It was the most difficult of deliberations for Steve and Debi Bailey.
Two footballing sons, both on the back of successful seasons and both looking to celebrate memorable moments just four miles apart.
Their youngest, Owen, has played a lead role in Gateshead's National League North title win during a remarkable campaign that has seen him move on from his release from Newcastle United in fine style.
On Saturday afternoon, he helped his side to a season-ending 2-1 win against Hereford before the Heed players, coaching staff and supporters celebrated being crowned as league champions in front of a crowd of over 4,000 at the International Stadium.
Just four miles away, at Heaton Stannington's Grounsell Park, another bumper crowd watched on as his brother Ryan wrote his name into the club's history books.
With just seconds to play in their Northern League Division Two play-off final against Tow Law Town, the two sides looked set to take their titanic clash into extra-time after battling to a 1-1 draw over 90 minutes.
But Ryan, who turned 28 on Sunday, had other ideas as he headed home a dramatic winner to set off exuberant celebrations from the majority of the over-1,000 record crowd watching on in awe as their side secured promotion into the league's top tier for the first time.
A proud moment for his parents - but one that almost bypassed his Dad, Steve.
He told Newcastle World: "It was worth missing the Gateshead celebrations after what happened with Ryan.
"The Stan celebrations would have been just as good and for Ryan to score the winner, it's just fantastic.
"I saw the ball hit the net, and then I jumped in the car to get over to Gateshead for the celebrations and I didn't even realise it was Ryan that scored.
Steve's quick dash across the Tyne Bridge was timed to perfection as he reached the International Stadium in time to watch Owen lift the National League North champions trophy alongside his Gateshead team-mates.
But he had still found the time to let his wife know what their oldest son had achieved just moments before his short trip got underway.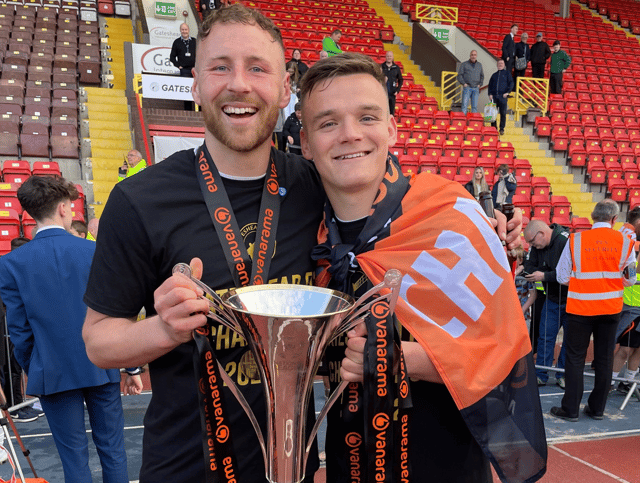 "We are so, so proud of both of our boys," she said.
"It's been fantastic, knowing Ryan got the winner is fantastic and seeing Owen lift the trophy with the Gateshead lads, it's just been a wonderful day.
"My phone went crazy when he scored because his girlfriend was ringing me, Steve tried to ring me, it was going off and I think I just knew."
It took even longer for Owen to discover the outcome of his older brother's date with destiny as he made his way off the International Stadium pitch.
And even when he learnt of Heaton Stannington's historic win, he was still unaware that Ryan had played an integral role in their triumph.
He said: "It's unbelievable, I didn't know the score because our games finished at around the same time so it was only when someone said the Stan had won as we came off the pitch that I knew.
"Me and Louis (Storey) checked to see who scored when we got back in the changing room and I couldn't believe it was Ryan.
"I wish I was there, I wish I could have been in two places at once.
"It's just been the best day the family has had."
"I'm so happy and so proud of him after all he has been through."
That feeling is reciprocated by his older brother, who spoke to Newcastle World less than half an hour after the dramatic events at Grounsell Park.
"I am chuffed for Owen, he's my best mate, we've been through so much together," explained Ryan.
"His injury problems have been well-documented and he just battles on.
"If there's one person that deserves the success, it's him.
"We are always texting and supporting each other and he said he couldn't concentrate on his game because he was thinking about ours.
"It's been such a great week for the family and it's all down to the support Mam and Dad give us.
"Without them, it just wouldn't be possible."