Cristiano Ronaldo's selfishness threatens to tarnish legacy amid Man Utd exit and Newcastle links
Ronaldo has been at the centre of yet more controversy this week after a heavily disputed goal in Portugal's 2-0 win over Uruguay.
Watch more of our videos on Shots!
and live on Freeview channel 276
Visit Shots! now
There's a scene near the end of Oliver!, the musical adaptation of Charles Dickens' classic novel Oliver Twist, in which Ron Moody's Fagin is forced to flee his ramshackle den of scampish iniquity. During his flight, the ageing swindler, blinded by greed and panic, scrambles to pocket as many of his ill-begotten treasures as he can before vanishing into the night. Such is the clumsiness of his haste, however, that he fumbles his lockbox of gold and precious gems, dropping them into the wallowing filth of the Victorian streets below. As Fagin's riches disappear out of sight, the last thing we see is a crown slowly sinking beneath the mud.
Cristiano Ronaldo, who left Man Utd last month and had been linked with Newcastle before agreeing a world-record deal, has been reviewing a situation of his own in recent days. Or rather, he's been pressuring the Portuguese FA to review it for him. The 37-year-old, once so mightily inimitable, has been reduced to something of a caricature, desperately clutching at anything shiny as he comes to terms with the dawning reality that his once otherworldly powers are waning fast. On Monday, Portugal beat Uruguay to secure their spot in the knockout stages of the World Cup, but as with most conversations that his runaway toboggan of an ego ploughs through, the discourse since has been dominated by Ronaldo and his quivering bottom lip.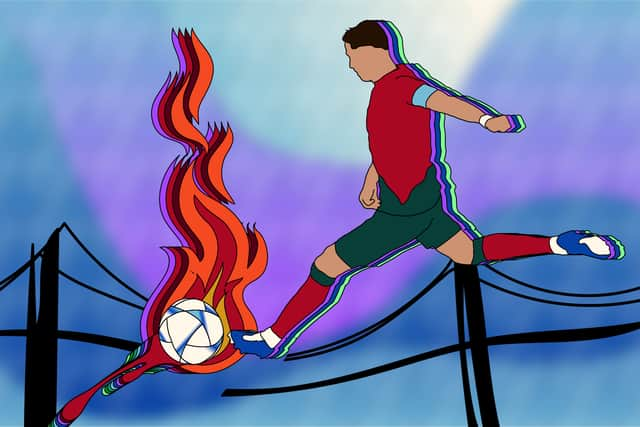 It was Bruno Fernandes who delivered the sumptuously-clipped ball into the box that Ronaldo so vehemently claimed to have applied a deft finishing touch to. Like, seriously, give that man a BAFTA. Or at the very least, a British Soap Award. His theatrical roar and all of his chest-beating histrionics were enough to fool anybody, especially given how ludicrously indecipherable the incident was to the naked eye. This was like Football Twitter's very own blue/gold dress phenomenon. But while Ronaldo and his goal-poaching cowlick might have outfoxed all of humanity (and bezzie marra Piers Morgan, who he now apparently texts from the dressing room like a schoolboy at break letting their mam know they did well on a tricky spelling test), it didn't dupe our dear old friend, SCIENCE.
CR7, a man who breaks records like Simon Pegg and Nick Frost in Shaun of the Dead, now has another historic footnote to add to his illustrious career: first footballer actively screwed over by ultra-edge. That's right, Adidas and their technological wizardry have proven once and for all that Ronaldo did not make contact with Fernandes' delivery. Perhaps the forward should hire the sportswear giant to independently adjudicate all of the marginal disputes in his professional life. Maybe then he wouldn't have to air his dirty laundry in public so often.
In a sense, Cristiano's desire to score is understandable. One more goal in this winter's tournament will put him level with Eusebio as Portugal's all-time leading World Cup marksman. But his selfishness also speaks to the nature of his success, especially in recent years. He puts the individual before the team every single time. It doesn't matter that his country won on Monday night, or that his subsequent appeal to FIFA for the goal to be credited to him would strip it away from his teammate, as long as Ronaldo benefits, as long as Ronaldo thrives.
And really, it is quite sad. Unquestionably, Ronaldo is one of the two greatest players of his generation. Many would argue he is the greatest. But to see him grasp at petty nothings like this, scrapping for every last morsel of acclaim like a rabid Hungry Hungry Hippo, only tarnishes his legacy. With every passing tantrum his crown slips a little further beneath the mud.